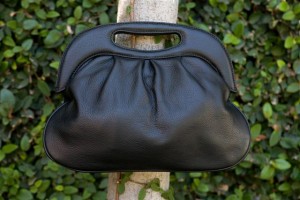 NEW YORK, Jun 11, 2010 / — Newly launched accessories label Aden Wallace unveiled its first collection for Fall 2010.
With this inaugural issue, co-designers Janessa Guidi and Henry Moses have set to create a concise but complete leather "wardrobe," in which each piece fulfills its function in style and becomes indispensable to its owner.
Only a few months old, Aden Wallace has already begun to gain accolades among A-list celebrities, notable fashionistas and socialites.
Co-designer Janessa Guidi exclaims "I'm thrilled to be launching the Aden Wallace collection of leather goods where versatility blends with classic sophistication. I wanted to design a "boho luxe meets modern chic" collection that offers a timeless, vintage day-into-evening look. I believe we have succeeded in creating luxurious signature pieces that stylish men and women will reach for again and again."
Every Aden Wallace bag – whether a luxuriously roomy, butter-soft weekender, a city savvy messenger bag, or a vintage-inspired day-into-evening clutch – is hand crafted in Los Angeles, California and made of the finest and most supple Italian leather.
Sleek gunmetal-finished nickel hardware from Italy is used both functionally and decoratively, adorning the bags with a modern sensibility. Pieces are offered in three different colors: onyx, chocolate, or la crème.
The bags' interiors are as meticulously designed and crafted as their exteriors. Each bag has a signature perforated suede lining that adds shape and substance without bulk, a hidden zipper compartment decorated with the Aden Wallace nameplate, and cell phone and wallet pockets.
Luxurious leather, modern classic shapes and a reverence for detail and quality combine to make every Aden Wallace bag instantly recognizable, despite the subtlety of the logo embossed on each piece.
As a California based company specializing in the sale of luxury leather goods, ADEN WALLACE is carried throughout the Los Angeles-Metropolitan Area at notable stores and boutiques such as: Fred Segal, Santa Monica; Traffic, Beverly Hills; Artisan de Luxe, West Los Angeles; Kitson, West Los Angeles; Kitson, Malibu and Lux, Los Angeles; to name a few.
As the brand continues to gain momentum, its growth has led to their worldwide debut as they are soon to be featured at department stores and boutiques such as: Scoop, NYC; BIO, NYC; Bergdorf Goodman, NYC; Henri Bendel, NYC; Nordstrom (selected), Colette, Paris; Liberty, UK; Harvey Nichols, UK; and Takashimaya, Japan.