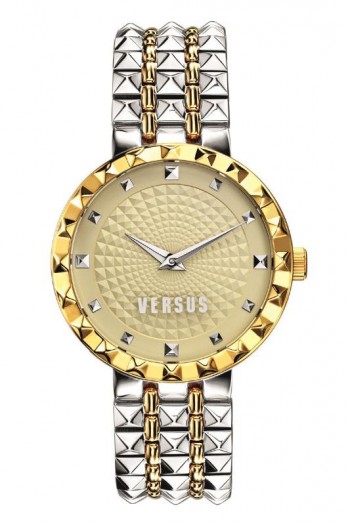 LAS VEGAS, Aug. 17, 2014 /– Twice a year, in February and August, the fashion industry flocks to the WWD Magic show at the Las Vegas Convention Center to snap up the newest and most innovative looks of the season.
Here at the largest global marketplace, the brands come to show their wares, and collectively write over $200 million dollars in orders.
A trailblazer of trends, the Versus Versace booth at the WWD Magic Show (August 18-20, 2014) is sure to be a prime destination with its unique and original timepiece collections.
Creative Director Donatella Versace defines this extension line as the rock-n-roll soul of the Versace brand. And when you examine the timepieces they definitely have that rebellious and youthful attitude of a younger sibling.
Kari Allen, President of Versace Timepieces USA, notes that the WWD Magic show is a perfect showcase for Versus. "When buyers want to know what's next in timepieces for fashionistas, they come to Versus," she says. "They are conceived for the man and woman with style and taste who want to make a statement."
The Versus Globe collection for men stands out by going against the grain. While watch diameters have been sizing down lately, the Globe watches defiantly announce themselves with a 50 mm diameter that transcends trend.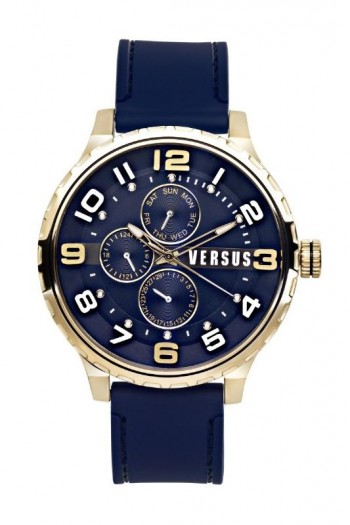 The dial layout resembles a chronograph with its three subdials but like a plucky sibling who likes to be clever, the subdials are actually a day, date and 24-hour counter. Large Arabic numerals circle the dial, offered in blue, black and silver with contrasting colors at the quarter hours.
Another collection sure to cause a stir is the Coconut Grove for women. The watches take the spirit of their namesake city located in Florida, an enclave of galleries, festivals and sailing regattas that has a much calmer and refined atmosphere than Miami.
Housed in a 38 mm round case, the dials, in a range of colors, feature a subtle geometric pattern that reveals itself as the light bounces off it. Classic Versus studs circle the bezel reminding that this watch possesses that rock-n-roll spirit.
Versus turned to "The City Beautiful" of Coral Gables, Florida for inspiration for the women's watch collection of the same name.
Defined by a stud degrade theme, the pattern can be found on the dial, bezel and as an integral part of the jewelry bracelet.
Offered with dials in gold, black, white and silver, and with bracelets in stainless steel, IP gold or two-tone, the Coral Gables collection offers beauty with just the right amount of edge.