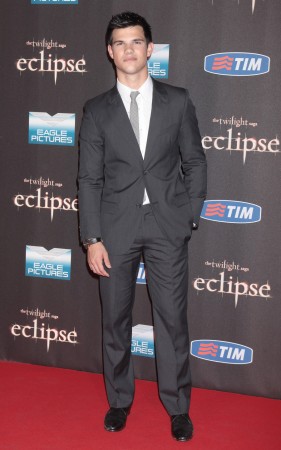 LOS ANGELES, Jun 19, 2010 / FW/ — While the editors are in Europe attending the menswear season, I will be writing Seen & Heard this week.
And we begin with Taylor Lautner whose popularity continues to rise.
Attending "The Twilight Saga: Eclipse" premiere in Rome, the young actor who plays Jacob Black in the series wore a harcoal grey two-button wool suit, white cotton shirt, and tie all from the Spring 2010 men's Calvin Klein Collection, designed by Italo Zucchelli, the brands' Men's Creative Director.
The premiere was held at the Auditorium Conciliazione in Rome, Italy on Thursday, Jun 17, 2010.
Now, on our side of the pond, Christina Aguilera belted out the Star Spangled Banner, the U.S. national anthem at the Staples Center in Los Angeles on Jun 16, Game 6 of the NBA Finals between the Lakers and the Celtics.
The singer wore a black bustier dress from Guilty Brotherhood Spring / Summer 2010 collection.
Alright, this is old news for Lakers fans like me and of course for those who follow the NBA because as we all know, the Lakers won its 16th title on the NBA on Jun 17th, moving them 1 championship behind Boston's 17 titles for the overall NBA leader.
Meanwhile, north of the 49th parallel, Katy Perry was spotted in Toronto, Ontario on Jun 17th wearing a silk cherry print Moschino halter dress from the Moschino Spring/Summer 2010 collection.
It's truly summer, as we see celebrities like Kim Kardashian who is seen here wearing her Le Doux "Wet and Wild" Bikini under a red and black zigzag cover up.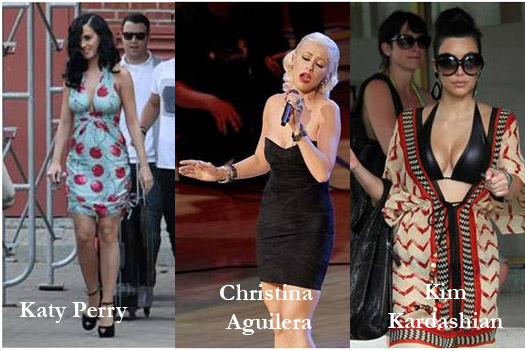 Designer Karen Millen continues to gather celebrity fans. Bethenny Frankel wore a Karen Millen at the "Real Housewives of New York City" reunion at Bravo TV.
Nicole Scherzinger, lead singer of the Pussycat Dolls and 10th season winner of Dancing with the Stars became a repeat offender her Karen Millen leather jacket. The singer/songwriter was seen twice wearing the jacket.
Tilda Swinton continues to catch waves of admiration with her performance at I AM LOVE which opened in New York and Los Angeles yesterday.
Tilda who plays Emma, a Russian immigrant who became the matriarch of a Milanese family in I AM LOVE, attended the New York premiere wearing Fendi.
Interestingly enough, it was Raf Simons of Jil Sander who dressed Tilda Swinton in the movie while Roman fashion house Fendi dressed the men.
I AM LOVE is currently showing at: Pasadena, CA: Playhouse 7 Cinemasm; Encino, CA: Town Center 5; West Los Angeles, CA: The Landmark 12; Hollywood, CA: Pacific ArcLight Hollywood 15; and Irvine, CA: Westpark 8 Cinemas in the Los Angeles area.
In New York City, you catch I AM LOVE at New York, NY: Cinemas 1,2,3; New York, NY: Lincoln Plaza; and New York, NY: Sunshine Cinema 5
Speaking of New York, Tori Spelling was seen leaving Rockefeller Center after appearing at the "Today Show" last Thursday, where she promoted her new tell-all book "uncharted terriTORI
".
Tori Spelling looked fresh and polished in a frock! by Tracy Reese dress from the current spring collection.
And finally, we are back here in Los Angeles where the 7th season of "Entourage" premiered last Thursday night.
Actress Perrey Reeves, who plays "Mrs. Ari" in the series, accessorized her red dress with K.Brunini's Body Armour cuffs (on both arms) when she attended the premiere.
Born in the mountains, at 14,000 feet, upon a vista in Telluride, the BODY ARMOR collection from Katey Brunini is the final chapter in her Shapes of Strength series. The designer's goal throughout: to strengthen women with potent images found in nature.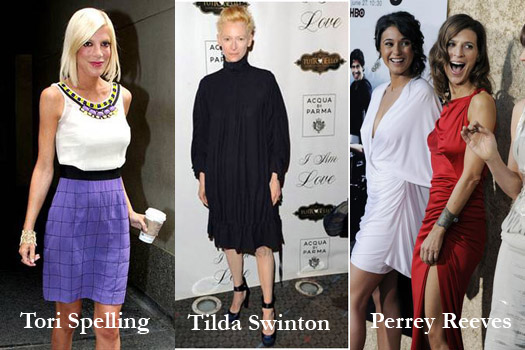 [MARIKIT YAMATO]