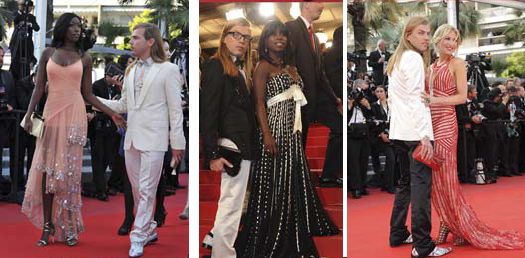 PARIS, Jun 8, 2010 / — French designer Christophe Guillarmé's red carpet fashion seen at the Cannes Film Festival this year was really about friendship.
Celebrities from the TF1 TV show, where Christophe was fighting for Sidaction, passed by the Villa d'Estelle to wear Christophe's gowns. These included Olympic figure skater Surya Bonaly and Cannes nominated Avida lead Velvet d'Amour, actresses Celyne Durand and Karine Dupray. A touch of glamour and humor!
Christophe took to the red carpet for the opening ceremony with spokes model Hofit Golan wearing a long gown in red printed mesh, fully embroidered with ribbons.
Additionally he accompanied American actress Phoebe Price, who wore the most extravagant outfit, with a stunning dress in ombré silk embroidered with peacock feathers.
Last but not least, the personal guest of President Gilles Jacob, French actress Salomé Stevenin chose a fully beaded, sequined mini dress in white viscose jersey for her red carpet debut.
Two thrilling weeks, enlivened by the Famous orange of Christophe's Mugler jacket, deemed too informal!
Photos by Guy Kinziger – Rachid Bellak, courtesy of Christophe Guillarmé