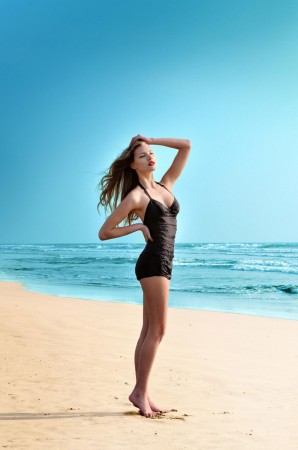 MILAN, Jun 3, 2010 / — Just in time for summer, eco-hero Brit designer Katharine Hamnett launches her Katharine Hamnett Beach at Yoox.com.
Part of the eco-friendly project YOOXYGEN, the new Katharine Hamnett Beach line features "Save the Sea," a capsule collection of eco-friendly swimwear which the Hamnett designed exclusively for Yooxygen and of course available only at www.yoox.com beginning June 1st.
Inspired by the 1950s screen sirens, Save the Sea is composed of 14 exclusive styles: FOR HER, 1950s-style one-piece swimsuits, bikinis, cover-ups; FOR HIM, swimsuits, beach towels as well as handmade oversized fabric beach totes, in different colors, playful polka-dot and stripes patterns, all with the slogan "Save the Sea".
All items are made with sustainable fabrics, organic cotton and with a minimal amount of recyclable polyester.
Says Katharine Hamnett about her new line, "I have called this collection SAVE THE SEA as the sea that we all love, is dying due to the impact of human activities such as oil spill, sewage dumping, industrial pollution, agriculture chemical fertilizers and pesticide run-off, lack of fish stock management, over fishing, pirate fishing which can possibly lead to the extinction of species including the blue fin tuna."
A percentage of the retail price of the collection goes to help farmers in West Africa through the "Fashioning a Better Future" project set up by Katharine Hamnett and run by the Organic Exchange, a registered U.S. charity.