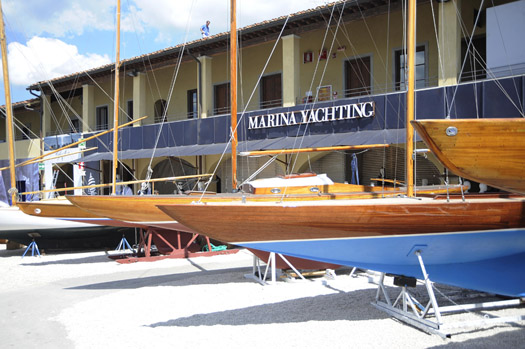 MILAN, Jun 16, 2010 / — For the 78th Edition of Pitti Immagine, Marina Yachting presents a selection of historical crafts that trace the evolution of sailing from 1860 to 1960.
Giving tribute to the purest tradition of yachting, the installation is being held from Jun 15 – 18, 2010 at the Fortezza da Basso in Florence.
On display are: the Snipe, snipe designed by Bill Crosby in 1931, still one of the finest drifts in the world scene; the legendary Star Sweisguth Francis (1911); Dragon by Johan Anker (1929), the first English Skiff, built in 1860, realized the first performance sailing ever experienced.
There is also the Dinghy George Cockshott, who is an icon since 1913, the Finn, 1949, released by
Rickard Sarby pen, the Flying Dutchman, comes with an impressive Olympic track, signed by Ulike van Essen in 1951, then in 1955, the FJ up beside him, shorter than a few meters and therefore more agile.
Finally, the Wianno Senior Manley Crosby, 1914, which was a favorite of John Fitzgerald Kennedy for sailing in Nantucket.
And as a tribute to the purest tradition of yachting, Feather, designed by architect Charles Frederick for the Lenardon Sciarelli Navigation.
Not just a stand, but an almost museum, a tribute to the history of the Sea has always been the soul of the creative spirit of Marina Yachting.