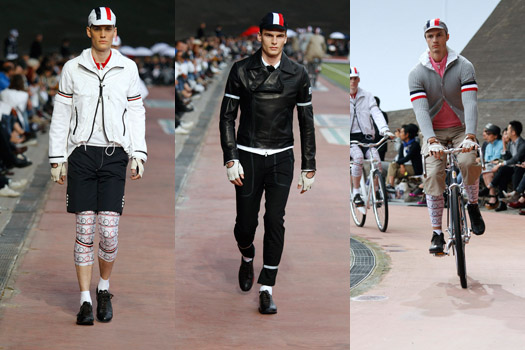 MILAN, Jun 21, 2010 / FW/ — Inspired by Giro d'Italia and the Tour de France, Thom Browne held the Moncler Gamme Bleu Spring 2011 show at the historic Velodromo Vigorelli stadium, putting his models on racing bikes as they circled the stadium's oval.
With the concept centering around the sport of cycling, Thom Brown created classic tailored pieces that include suits, Chesterfield coats, trench coats, cardigans, capes and Oxford cloth shirts.
With details often used in cycling gear such as extended rounded hems in the back and gusseted shoulders, the clothes were a fine mix of extreme sport softened with elements borrowed from women's clothing leggings with bicycle prints.
But, don't think for a second that the collection is effeminate. With ergonomic high-tech inserts and sartorial tailoring and of course the speed, courtesy of the bicycles, you will not miss the testosterone embedded in the collection.
[MARI DAVIS]
Photos courtesy of Moncler Gamme Bleu Spring 2011