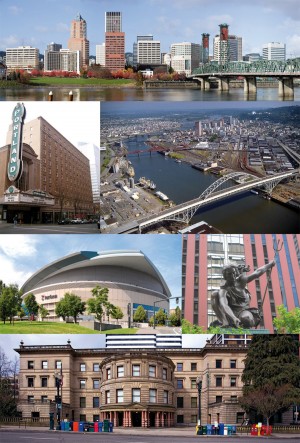 PORTLAND, Oregon, Jun 13, 2010 / — Fashion designers showing at Portland Fashion Week: Spring/Summer 2011 Collections, (Oct 6-10, 2010), will see the addition of numerous programs that benefit their businesses, not only in their brand marketing, but also to increase direct sales and wholesale orders.
"Portland Fashion Week takes pride in making fashion week affordable for designers, by having corporate and other sponsorship cover the vast share of the costs" says Prasenjit Tito Chowdhury, Executive Producer of Portland Fashion Week.
This year, the addition of these free programs: A PFW Public Market facilitates direct-commerce, a distinct Wholesale Buyer/Designer event separate from the hustle-bustle of the shows facilitates commerce, and a new Presentation format Show with NO-FEE for high-end, low-volume fashion designers supports creativity and business, are expected to further help the bottom-line of designers.
"We are adding two PFW Market Events, an industry-only Wholesale Market and a Public Retail Market during Portland Fashion Week," says Casey Golden, an industry apparel consultant who has worked with leading retailers, and as a member of the PFW Buyer Relations Committee.
"Both Wholesale and Public Retail Markets will be held as distinctive events, from 2-5pm on October 8, and October 10, respectively. THE WHOLESALE MARKET OPPORTUNITY IS A FREE BONUS TO DESIGNERS SIGNING UP FOR THE RUNWAY SHOWS OF PFW, while the PUBLIC RETAIL MARKET IS FREE TO BOTH RUNWAY AND PRESENTATION SHOW DESIGNERS. DESIGNERS KEEP 100% OF THEIR SALES."
The Wholesale Market for designers is open to buyers only, while the Public Retail Market is open to everyone, with FREE ADMISSION.
An exciting new addition this year is the aforementioned Presentation Show on opening night of Portland Fashion Week, which will feature the show-hall converted into exhibition space for fashion presentations instead of a runway show.
Chris Cone, Executive Producer, Portland Fashion Week, explains, "The Presentation Show offers select designers, who are geared towards low production numbers of high-quality, hand-constructed, high-fashion garments, an opportunity to have total creative & artistic control of their own 12×8-foot space to present up to 8 looks to a packed house of Portland Fashion Week attendees. There's NO CHARGE to the invited or juried designers, AND they get to participate in the PFW Market event at NO FEE and KEEP 100% of their sales."
IN ADDITION, every evening during PFW, professional retail staff will be there on-site to sell designers' in-season clothes in a consignment format to attendees, so most designers get a triple-shot at sales. On show-nights, designers' in-season apparel sales can take place without them having to worry about any of those operations while they concentrate on their show!
PFW is also working with high-end boutiques to create an incentive-based collective marketing initiative, which will motivate more show-attendees to be store shoppers, and vice versa… news TBA.
Local boutique owner and PFW Buyer Committee member Anne Bocci comments, "I think it makes good business sense for retailers and designers alike, that PFW is offering them the opportunity to come to shopping or buyer-centric events separate from the PFW shows at times that are convenient."
As last year, the second night of Portland Fashion Week will feature the finale of the Emerging Designer Competition. Auditions will take place in August (exact date/location TBA in separate release).
Some of the distinguished designers who have already given PFW 2010 runway reservations the thumbs-up are, Michele DeCourcy, Amai Unmei, Ethos Paris, Souchi, Defyance, Lia Griffith and world-famous Pendleton.
Designers interested to participate in Portland Fashion Week, contact, designers@portlandfashionweek.net
www.PortlandFashionWeek.net
info@portlandfashionweek.net