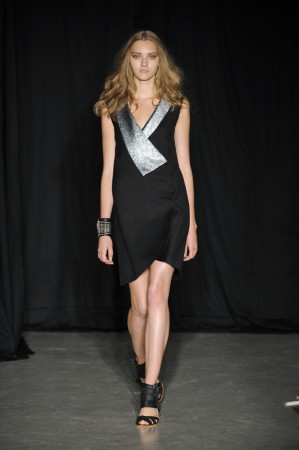 NEW YORK, Jun 15, 2010 / — New York is the thing that formed me; New York is the thing that deformed me," Patti Smith sang… and that vibe was Tia Cibani's muse for Ports 1961Resort 2011 collection that even Patti Smith would have been blown away by the clothing on the runway.
Each piece was more edgy than the last and the collection cohesively celebrated gender equality and represented a modern androgyny.
The collection's black and white overtones were highlighted with a few electric blue pieces. Every time a model stepped on the runway, everyone was captured by the unique designs Cibani presented.
She defied the norms of design by stepping away from the usual shoulder seams and used tucking, folding and padding to create structure.
The most impressive part of the Collection was each piece's wearability. The looks had an urban chic feeling, a look that could be worn by any woman, transporting you to the streets of New York City.
Cibani's designs represented glamour, rock, individuality, equality and everything that fashion should be.