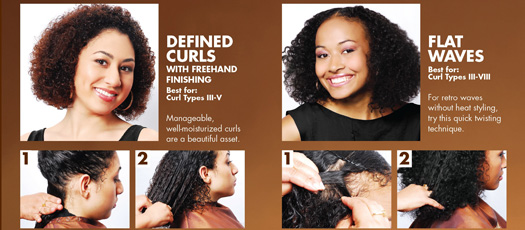 NEW YORK, Jul 8, 2010 / — Summer sun and humidity can cause damage to your hair's cuticle and result in dull, frizzy hair, which equals disaster when trying to style your natural curly hair.
Veronique M. Morrison, Director of Education at Mizani, offers a few tips on styling and maximizing your natural curly hair.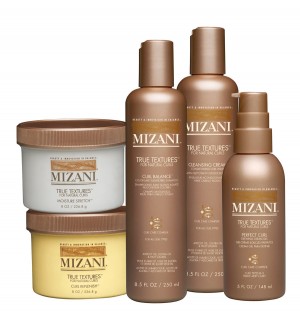 To combat frizz, it is best to use a product that will penetrate even if minimally and seal the cuticle. Mizani Butter Rich deep nourishing hairdress conditions from root to ends and locks in moisture throughout the entire hair strand. It leaves hair weightlessly soft and manageable without build-up or residue.
For all types of hair it is best to apply a leave in conditioning agent. For natural curls, Mizani True Textures Perfect Curl is great. Apply to damp hair, and finger comb to remove tangles. This lightweight cream gel re-energizes natural curls and waves, enhancing curl separation, definition and shine.
When hair is wet, limit brushing use a wide toothcomb or finger comb to remove tangles. The entire line of True Textures is designed to keep naturally curly hair in optimum condition, frizz-free, smooth and looking healthy.
Ways to keep curls without the frizz:
1. Avoid brushing the hair when wet, use fingers or a wide toothcomb to remove tangles.
2. Minimize the frequency of shampooing. Two or three times a week is sufficient if you tend to cleanse daily. Sulfate free shampoos and cleansing creams such as Mizani True Textures Curl Balance and True Textures Cleansing Cream are great alternatives.
3. Use moisturizing products to balance the hair's moisture. These conditioners provide good grooming and frizz elimination.
4. Rinse hair with cool tepid water. This will assist in closing the cuticle and locking in the moisture.
5. Nourish the hair twice weekly to enhance the flexibility and elasticity of the hair strand and smooth the cuticle
6. Finish your curly style with Mizani Spradience High Gloss Serum. This serum is an alcohol free formula, perfect for sensitized hair, control flyaways and unruly frizz, while protecting hair against damage caused by heat styling and environmental stress.