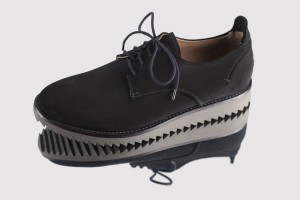 NEW YORK, Aug 19, 2010 / FW/ — Unveiled at Pitti Imagine Uomo 78th edition, Casbia is the latest from uber shoe designer Edmundo Castillo and Manuele Bianchi.
Describing their new line, Edmundo Castillo and Manuele Bianchi said, "Masculine, subversively sophisticated, as up-to-date as the season, and yet something he will have forever, Casbia is both a thing of the past and the wave of the future."
Offering essential accessories that combine the best from fashion and tradition, Casbia gives sophisticated, stylish men qualities from both, something increasingly hard to find in a single design.
The line offers men essential items for their wardrobe: timeless styles with a contemporary twist for the 21st century.
Modern men pay attention to fashion but they are not driven by it. They also appreciate tradition but they are not stuck to it. They prefer to live, work and dress somewhere in the middle.
Finding that the majority of the men's shoes were either too classic or too trendy, Castillo and Bianchi were determined to create what they had a difficult time finding. Launched in 2010, Casbia provides accessories that are forward-thinking and fashion-flexible, yet timeless and grounded in tradition.
The Casbia F/W 2010 collection consists of "The Ten Shoes Every Guy Needs in His Closet." It includes staples such as a calf-leather dress shoe, calf-skin motorcycle boot and suede sneaker. All of the styles are meant to be able to be worn with both business attire and casual wear.
Casbia will make its debut at Saks Fifth Avenue in the New York, Beverly Hills and Washington D.C. stores.