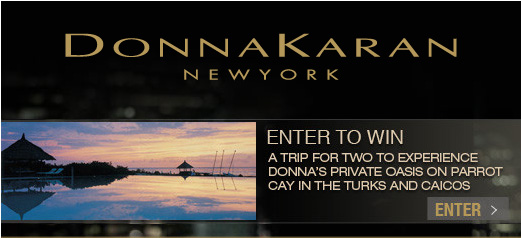 NEW YORK, Aug 18, 2010 / — "I can't think of a better escape– private, sophisticated, and naturally beautiful," says Donna Karan about Parrot Cay.
A Caribbean get-away, Parrot Cay is a private island in the Turks and Caicos area. With 1000 unspoilt acres, including a mile-long powdered beach, with understated style, cosseting service and smiling staff, Donna Karan thinks of Parrot Cay as a private oasis, a place to escape from the hustle and bustle of the city.
And now, you have a chance to experience it! From August 18 through September 19, enter for a chance to win a trip for two to Parrot Cay.
Log on at www.donnakaran.com  or visit the label's Facebook page at www.facebook.com/DonnaKaranNewYork  to enter.
The trip includes an all inclusive 6-night trip for two to Parrot Cay Como Hotel and Resort in Turks and Caicos including airfare, private yoga instruction, and a trip to the spa.
Speaking of Facebook, the Donna Karan Facebook page has been updated to include a tab that offers an exclusive look at the world of Donna Karan, featuring behind the scenes footage from the Fall 2010 ad campaign, shots from the runway, a look at who has been wearing Donna Karan on the red carpet, and exclusive "gifts" that fans can give to one another.
To view go to www.facebook.com/DonnaKaranNewYork .