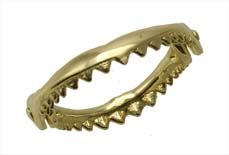 NEW YORK, Aug 5, 2010 / — We loved Ariel and Flounder in the animated movie; we fell in love with them again in the Broadway musical. And now, we will fall in love with them once more with the new Disney Couture's Little Mermaid jewelry collection.
Created with genuine fresh water pearl, gold plating, enamel, crystals, mother of pearl, and glass, the new line of jewelry offers a clever take on the 'Under the Sea' imagery from the film including shark jaws, harpoons, treasure chests, sandcastles, and shells. Green fish scales, colorful mother of pearl, and coral, are also repeated motifs of the collection.
Key characters from the film such as 'Flounder' and 'Ariel' appear as charms on bracelets and necklace styles. 'Ursula,' the sea witch serves as inspiration for a bracelet, earring, and ring set which feature purple Octopus tentacles encrusted with crystal suction cups.
The pieces retails from $34-$160, and sold nationwide and online at 80spurple.com, Fredflare.com, Karamloop.com, Zappos.com, Disneystore.com.