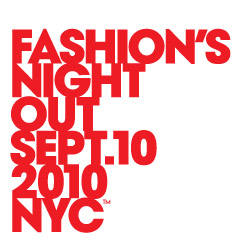 NEW YORK, Sep 1, 2010 / — With Emmy Award0-winning actor Neil Patrick Harris as host, the CBS one-hour primetime special on Tuesday, Sep 14 (10:00 – 11:00 PM, ET/PT) will feature Oscar de la Renta, Diane Von Furstenberg, Justin Timberlake, Tory Burch and Anna Wintour among the many industry stars who will take viewers behind the scenes o the world's largest fashion celebration, "Fashion's Night Out."
The upcoming special will focus on year two of Fashion's Night Out, including "Fashion's Night Out: The Show," the largest public fashion show in New York City history with more than 150 models, at Lincoln Center on Sept. 7, 2010, and the actual Fashion's Night Out event three days later on Sept. 10, taking place in New York City and more than 100 cities acrossthe country and 17 nations around the globe.
Featured fashion luminaries include Anna Wintour, Vogue editor-in-chief; design icons Oscar de la Renta, Diane von Furstenberg, Tory Burch and Tommy Hilfiger; Justin Timberlake, co-founder of William Rast; emerging designers Alexander Wang, and David Neville and Marcus Wainwright from Rag & Bone; and fashion executives Terry Lundgren, chairman, president and chief executive officer of Macy's, Inc., and Steven Kolb, executive director of the Council of Fashion Designers of America (CFDA).
Cameras will follow these celebrities, designers, editors and retailers as they prepare for one of the most anticipated events of the year, providing a unique view of the creative and logistical work that goes into coordinating an event of this scale.
Looking beyond the glamour to the real-life implications at stake, the show will also focus on individuals working in all parts of the industry for whom the vibrancy of the fashion business is a question of economic survival — from Wintour's initial meetings in Paris with her international editors to discuss plans for this year's event to interviews with sales managers at the Gap about how Fashion's Night Out benefits the retail industry.
Now in its second year, Fashion's Night Out, a worldwide initiative to celebrate fashion and support local economies, was launched in 2009 by Vogue, the Council of Fashion Designers of America, NYC & Company and the City of New York in response to the global economic downturn.
In New York City and across the country, participating retailers will stay open until 11:00 PM on Friday, Sept. 10 and offer an array of in-store celebrations, including designer and celebrity appearances, fashion shows and more. In New York City alone, over 1,000 participants have already signed on to party with a purpose and join in the Fashion's Night Out event on Sept. 10.
For more about the FASHION'S NIGHT OUT 2010 special on Tuesday, Sept. 14, including exclusive video and photo galleries, as well as information on CBS.com's live webcast of "Fashion's Night Out: The Show," hosted by André Leon Talley and Hanneli Mustaparta, on Sept. 7 at 7:00 PM, ET – please visit http://www.cbs.com/FNO  .