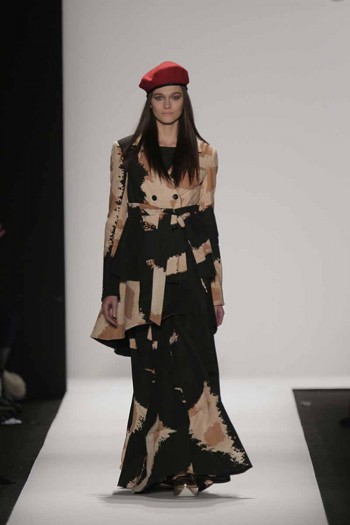 Emmanuelle Ciara Jones, M.F.A. Fashion Design, was born and raised in Memphis, Tennessee. Emmanuelle holds a B.F.A. in Painting, and has interned at 440 Brannan Studio in San Francisco.
Jean-Michel Basquiat—whose artwork focuses on suggestive dichotomies such as wealth versus poverty, integration versus segregation, and inner versus outer experience—has been especially inspirational to Jones as she designed her fall 2015 collection.
Jones' collection was motivated by hip-hop street culture and music and features textiles designed by Ghazaleh Khalifeh, M.F.A. Textile Design, who hails from Marin County in California. Khalifeh played off Jones' inspiration of African textiles and voodoo, complementing silhouettes with textiles that incorporate elements of the culture, spirit and graffiti of New York's Lower East Side in the early 1980s.
All fabrics are 100% natural fibers. After earning her B.F.A. in Fashion Design from Academy of Art University, Khalifeh returned to pursue her graduate degree in Textile Design.
Her work has received widespread industry recognition: In 2008, she won the prestigious $25,000 Geoffrey Beene Design Scholarship Award, and in 2009, she earned a scholarship to study at L'École de La Chambre Syndicale de la Couture Parisienne in France. While in France, she was selected to display her illustrated homage to Yves Saint Laurent at the City Hall of Paris.
Photos courtesy of Academy of Art University