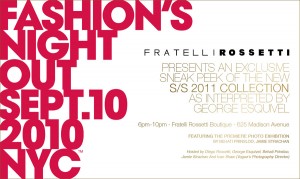 NEW YORK, Sep 4, 2010 / FW/ — While almost everyone are either hitting the beach for their final dip for the summer or having enjoying barbecue under a cabana or their backyard, the fashion elves are busy preparing for Fashion's Night Out
FRATELLI ROSSETTI Spring 2011 Collection Sneak Peek
On Friday, September 10th, Fratelli Rossetti celebrates the second annual Fashion's Night Out with an exclusive sneak-peek of the Spring/Summer 2011 Fratelli Rossetti Collection as interpreted by designer George Esquivel.
Models Behati Prinsloo and Jamie Strachan along with Vogue's Photography Director Ivan Shaw, Fratelli Rossetti's owner Diego Rossetti and designer George Esquivel will host the event at the Madison Avenue boutique, which will feature the premiere photo exhibition by Behati and Jamie.
FRATELLI ROSSETTI
625 Madison Avenue
New York, NY
JUICY COUTURE From Coast to Coast
From the city lights of the East Coast to the Hollywood glamour of the West Coast, Juicy Couture invites all fashion bellwethers to celebrate fashion and shopping during Vogue's Fashion's Night Out initiative, while grooving to the cool indie sounds of Metric and Rain Phoenix.
On the East Coast, model Karlie Kloss will decorate cupcakes with editors from Teen Vogue, including editor-in-chief, Amy Astley from 6PM-8PM at the Bleecker Street location.
Designer Erin Fetherston (whose collection for Juicy Couture debuts this holiday season) will also stop by the festivities and fashion a cupcake before heading out on the town! After a sweet treat in the West Village, head up to the Flagship store on Fifth Avenue where indie rock band, Metric will perform live at 8:30PM!
On the West Coast, enjoy a live acoustic performance by Rain Phoenix at the Juicy Couture store on the famed Rodeo Drive. It wouldn't be a party without a few Juicy surprises, so get ready for a fabulously fashionable night of shopping, no matter what side of the globe you are on!
Juicy Couture Madison Avenue
860 Madison Avenue (at 70th Street)
New York, NY 10021
Juicy Couture Flatiron
103 Fifth Avenue (at 17th Street)
New York, NY 10003
Juicy Couture Beverly Hills
456 North Rodeo Drive
Beverly Hills, CA 90210
Friday, September 10
6PM to 11PM in NY and 6PM to 10PM in LA
These events are open to the public. For more information, please visit www.juicycouture.com.