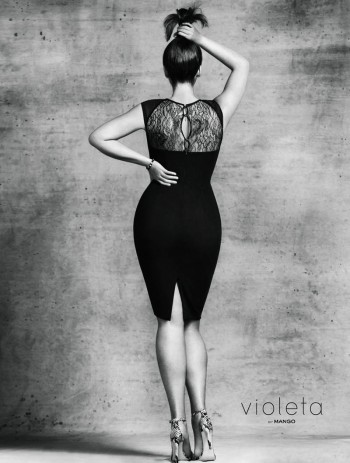 BARCELONA, Dec 9, 2013/ — In a bold move, Mango announced the launch of VIOLETA, a new line offering sizes 40 to 52 (US sizes 10 to 22), and thus bringing the Barcelona-based label to a market that is dominated by American designers.
Violeta's message is summed up with its mantra, "It suits me and I like it." The aim of is to dress a young target market in sizes 40 to 52 with garments designed to be comfortable, feminine and modern.
To achieve this, MANGO designated an exclusive team made up of 40 experts in various disciplines working together to offer a wide range of on-trend products in a comprehensive collection of clothing and accessories for any moment of the day.
The secret to this new project lies in the care taken in the technical pattern details from size to size and in being able to offer a high quality collection for any moment of the day, aimed at a modern and demanding woman who wants to feel attractive, sexy and fashionable.
Slated to reach store shelves in January with the release of the Spring/Summer 2014 campaign, Violeta's initial collection is comprised of 400 models, to which new garments will be added in order to offer new products every month.
The garments in the new Violeta by MANGO collection will go on sale at online stores on 15 January and will be available at selected stores in France, Germany, Italy, Netherlands, Turkey, Russia and Spain from 17 January.