PARIS, Sep 2, 2010 / — Having launched its first edition of 'carré d'artiste' in 2008 with 'Homage to the Square' by Josef Albers, Hermès invited the French artist Daniel Buren to personalize the emblematic square of silk for its second edition.
For Pierre-Alexis Dumas, Artistic Director of Hermès, this encounter responds to a vital need for the house.
"The confrontation of an artist's work with our know-how opens up a necessary dialog that allows us to innovate, develop new expressions and move ahead in mastering our métiers. "
"Hermès remains a living enterprise that takes risks, reaches beyond its own limits and strives to reinvent itself with each new generation."
This approach seals the bond between two worlds, the one of Hermès and the one of Daniel Buren and has resulted in the birth today of 'Photos-souvenirs au carré', an edition consisting of a series of 365 'pièces uniques' on silk.
The ties that unite Hermès and Daniel Buren reflect a history that is already rich and enduring, since the artist has collaborated with the house on two previous occasions. In 2000 (at the request of curator, Alice Morgaine), he inaugurated a new Hermès space dedicated to contemporary art, La Verrière in Brussels.
Six years later, Hermès invited him to create the inaugural show for another new Hermès gallery – the Atelier Hermès in Dosan Park, in Seoul – for which he produced the in situ installation 'Filtres colorés'. These two episodes have had a certain influence on the evolution of the Photos-souvenirs au carré.
Daniel Buren proposed the creation of silk prints on a multitude of Hermès scarves – each one unique – based on thousands of "photo-souvenirs".
This term, invented by the artist, refers to the hundreds of thousands of photographs that he has accumulated since the 1950s and that he defines as "photos without pretension and no more than that" (Les Écrits, 1988) and refers as well to his own works as the pictures taken during his trips all around the world.
For this project twenty-two photo-souvenirs were selected, some of which represent Daniel Buren's in situ installation for the Atelier Hermès in Dosan Park.
The others, taken by the artist during his travels across the four corners of the world, represent a flag-lined street, a fragment of architecture or geometric paving; but also a Mediterranean fishing port, a flamboyant sunset, flowers of extraordinary beauty or the golden clouds of a Baroque dome.
Hermès today unveils 365 original scarves from 22 photos-souvenirs, 2 to 4 selected frames within each photo and 18 possibilities of framings according to the selected pictures.
Daniel Buren framed them with a "visual tool" which, since 1965, has functioned as his signature – another concept invented by the artist- featuring alternating white and coloured vertical stripes 8.7 cm wide (here in sky blue, dark blue, yellow, black, orange, pink, red, green and purple).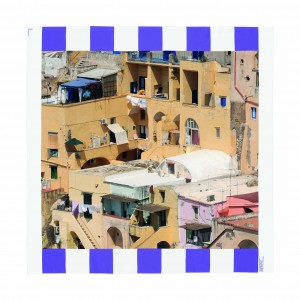 The framing with coloured stripes is used as an invariant visual that unites, creating a connection, but also produces a difference.
To print the photographs onto silk, Hermès had to turn to the technique of ink-jet printing, a procedure which allows an infinite number of colours to be used, whereas traditional screen printing techniques only allow for a limited number.
The printed photography, sublimated, presents colourful nuances that are more intense, delicate and almost pictorial, with a certain warmth in the image and softness lent by the silk, and the beautiful traversée.
The 365 scarves created by Daniel Buren for Hermès Éditeur can be considered works of art, but the artist likes to remind us that they are above all designed to be tied about the neck, draped, worn and crushed: he points out that "they are unique objects like paintings but rather than fixed on a wall are made to be worn".
For the artist – who has long since liberated himself in his work from the frames and frameworks imposed on painting – the scarf as an item to be worn is not devoid of meaning, since it extends his intervention into public space.
'Photos-souvenirs au carré' will be available, from October 20th, in selected Hermès stores, with an accompanying book co-published with Xavier Barral editions.
'Photos-souvenirs au carré' will be presented during the week of the Fiac in partnership with the Kamel Mennour gallery and La Monnaie de Paris, at La Monnaie de Paris – 11 quai de Conti – Paris 75006 from
October 20th to November 7th 2010, open Tuesday to Sunday, 11 am to 7 pm.
La Monnaie de Paris is a particularly appropriate location to present this work, it is also a house of know-how and tradition in métiers d'art that welcomes contemporary artists. In 2009, Daniel Buren exhibited his work « Pergola – travail situé 2006-2009 » at this same location.