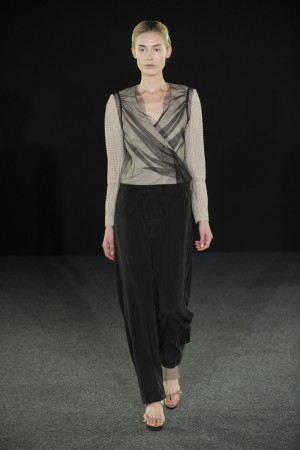 PARIS, Sep. 30, 2010 /FW/ The trend of easy-to-wear ready-to-wear this Spring continues to be found in Paris as Lutz drew inspiration from none other than the simple t-shirt.
His take one it, however, moved the ease of a t-shirt towards more structured garments, more protective almost.  
From this inspiration were born jackets and trenchcoats in fluid silk jersey contrasted by the structure of collar and shoulder details lined with waddling.  
Scarves were added to dresses in a play on the idea of armor- taking simples pieces to infinite adaptable levels by layering and transforming.  
The contrast between structure and airiness was provocative and wearable.
In addition to contrasting function and weight, Lutz brilliantly contrasted textures by adding perforated jerseys and silks, cut-out and layered with ottoman and cotton.  
The effect- a chain mail look that left only a little to the imagination.  Bodycon and oversized, Lutz found the balance between material and the body underneath.
[LINDSAY McCALLUM]
Paris Pret-a-porter Spring 2011