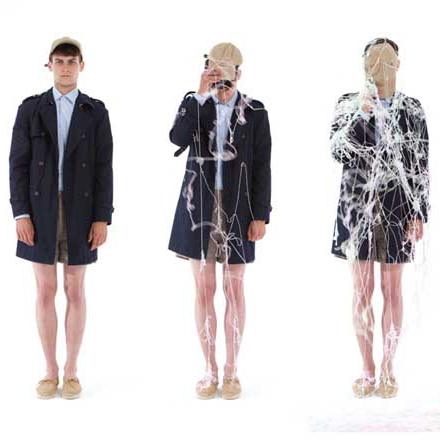 NEW YORK, Sep 24, 2010 / — Opposing forces of modernity versus classicism that Shipley & Halmos explores in their men's collection season-to-season offers a wardrobe of lighthearted, functional essentials.
The Spring/Summer 2011 men's collection, entitled "A Classic vs. Modern Parody", embraces that duality with humor and wit.
As inspiration, designers Sam Shipley and Jeff Halmos studied the true definitions of "classic" and "modern" by researching Greek and Roman architecture and art while comparing it to early 20th century modernism.
The meeting point of the two lends itself to a collection built on linear compositions, new prints and usage of color, and unique twists on the everyday basics of a man's wardrobe.
The collection showcases the use of various sizes and shapes of stripes, ranging from horizontal naval stripes in a loosely-knit jersey tank top paired with a vertically-oriented khaki and cream striped cotton fabric cut in the brand's staple two-button suit. Being spring, a canvas boardshort is constructed in graphic black and white panels and paired with a pocket t-shirt in the same pattern with a slightly altered scale.
Playfulness in the color palette establishes it as a key component of the collection. Bright jolts of red and subtle uses of strong pinks mixed with contrasting black and white complements the earth tones of military green, various shades of beige, and pops of navy and blue.
Intarsia sweaters with Greek columns illuminated in red and graphic t-shirts showing a war general saluting atop his horse with a bright yellow smiley face masking his identity reinforces the parody element in the collection with detailed subtlety, further referencing the brand's sense of humor and perspective.
Outerwear continues to be a driving category for the menswear, this season highlighted by a classic belted trench, a waxed field jacket, and a revisit to the varsity jacket from last season, this time lightened up with striped ribbing, perforated leather sleeves, and a cotton body. These items are paired with floral print woven shirts, denim dyed a fresh shade of blue, and pleated gauzy wool trousers.
Men who value functionality and individuality will find resonance in the minimalist lines, relaxed silhouette, and optimistic color palette of "A Classic vs. Modern Parody." The dualities that Shipley & Halmos examines for Spring/Summer 2011 continue to speak to the current and essential wardrobe of the brand's consistent and functional aesthetic.