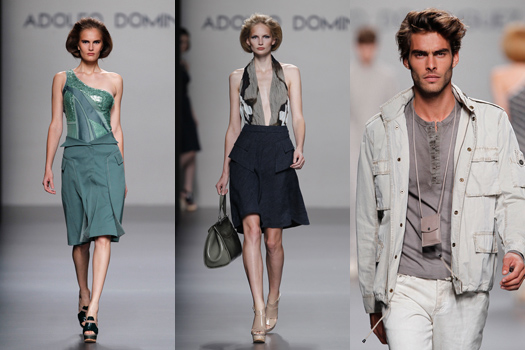 MADRID, Oct 25, 2010 / — Adolfo Dominguez' 2011 Spring-Summer collection is inspired by the retro ambience of the 70s and by the vintage style of the American 50s.
The runway is painted in blues and shades of rope, grey, white, talc and ecru. Natural aesthetics persist in linens, cottons and washed silks: diagonally-cut shapes, naked backs and meticulously-worked openings.
A y-X line with a marked waistline and trapeze silhouettes offer a look that has masculine touches.
For cocktail wear, cottons are stiffened, rustic and handmade; linens are waxed, softened and even mixed with silk – which also appears on its own, in washed organzas. The evening is rounded off with washed vintage jacquard.
Photos courtesy of Cibeles Madrid Fashion Week
Madrid Fashion Week Spring 2011