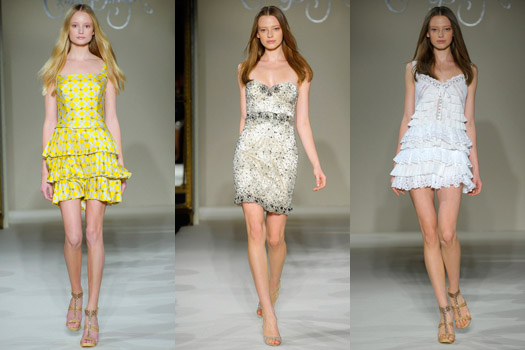 PARIS, Oct 12, 2010 / FW/ — Time sure does fly when you're having fun! Fifteen years ago, Australian designer Collette Dinnigan debuted in Paris and on Tuesday, October 5th, she celebrated her Crystal Anniversary at the Hotel Meurice with the theme 'Cirque d' Amour' (Circus of Love).
Marking 15 years as the only Australian on the official Chambre Syndicale calendar, Dinnigan premiered her Spring 2011 collection in an intimate salon show proposing a fresh palette of pastels and crisp whites creating a backdrop to detailed and delicate embellishment, combining the expression of sport and luxe.
Hues of lemon and mint contrast against elaborate lyrical prints arresting the audience and ricocheting a fantasy of spirit. Souvenir prints with pleated contrasting serve to deliver a Collection encapsulating a newfound ease for contrast – soulful vitality.
"The honour of showing in Paris is as much about representing Australia on a global design stage as it is about growing our presence in an international market, I feel incredibly privileged to be acknowledged in a forum of my peers. Cirque d' Amour is youthful, fresh and channels the sport of performing" says Dinnigan.
2010 also marks further milestones for Collette Dinnigan, in addition to her 15th year showing in Paris it is also her 20th year in business and the 10th year since opening her London store at Chelsea Green.
A testament to timeless design and style Collette Dinnigan continues to distinguish herself through the craftsmanship and quality that stay true to her focus on luxurious and exceptionally beautiful pieces.
Photos courtesy of Collette Dinnigan
Paris Prêt-a-porter Spring 2011