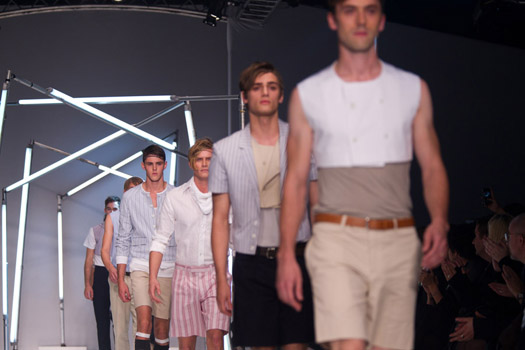 MONTREAL, Oct 2, 2010 / FW/ — Woot! Dmitri Chris has a winner. Sending a 1930s-inspired collection, the Montreal-based designer recreated the elegance of the Great Depression translating it to the 21st century and thus subtly referring to the Great Recession.
One great thing about this collection is that the references are so subtle; you can almost miss it if you are not looking. The double-breasted jacket that rose into popularity during the 1930s was reworked to be off-centered and thus adding informality to its charm.
The baseball jersey was cut on the hip and turned into a blouson while the vest was cut high on the torso and given a hood making it very fashion forward.
And now, I can also see that I have finally seen a collection by Dmitri Chris. Last season, though I attended the show and sat front row, I did not see the collection because it was very dark and smoky.
This season, the show producers made it very right with lit fluorescent tubes put together as doorways decorated the catwalk.
[MARI DAVIS]
Photos by Jimmy Hamelin Photographe
Montreal Fashion Week Spring 2011