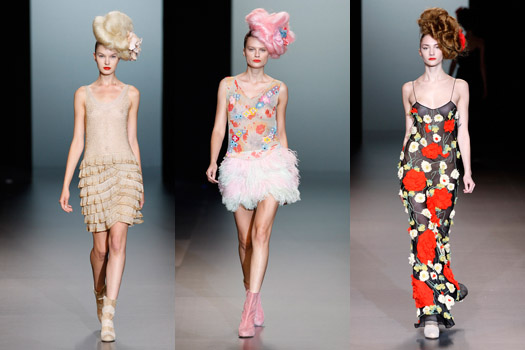 MADRID, Oct 23, 2010 / — Unveiled last September 18th at the Cibeles Madrid Fashion Week, the Elisa Palomino Spring / Summer 2011 collection is inspired by the myth of Persephone.
In the valley of Enna there was a lake surrounded by flowers where spring was perpetual. One day, while Persephone was playing with some nymphs, collecting violets and lilacs in her apron, Hades saw her and fell in love with this creature that was as delicate as a flower.
He put her on his shoulders and carried her to hell to his kingdom of eternal darkness which had black marble rocks, dark, deep lakes and caverns filled with shining crystals.
The collection begins with the naked silhouettes of the nymphs' dresses, a cascade of frills and fine lace. Approaching the lake, a bouquet of pastel flowers blooms on each garment, soft floral prints burst into life and chiffon petals emerge everywhere.
Knitwear is decorated with sequin branches in small bouquets. The colour palette is finally a summer festival; poppies and daisies cover Persephone's dresses and even a cocoon coat is covered with suede appliqué flowers. Far below, in hell, her image changes into something more dramatic and dark but still shining when Hades throws his brilliant crystals at his beloved Persephone.
Photos courtesy of Cibeles Madrid Fashion Week
Madrid Fashion Week Spring 2011