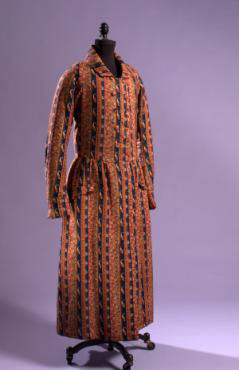 His & Hers
On View at The Museum at FIT in New York City
November 30, 2010 – May 10, 2011
NEW YORK, Oct 30, 2010 / — The Museum at FIT presents His & Hers, a new exhibition that examines the relationship between gender and fashion. Side-by-side comparisons of men's and women's clothing will highlight their differences—and similarities.
Beginning with the 18th century and leading up to the present, His & Hers will explore changing perceptions of "masculine" and "feminine" dress, including so-called unisex and androgynous dress, as well as developments in cross-gender appropriation.
While skirts, for example, are generally regarded as "feminine" garments in Western culture, garments such as kilts and sarongs are common attire for men in other parts of the world, and in recent years, Western designers such as Jean Paul Gaultier have created skirts for men.
His & Hers will begin with complementary pairings of "His and Hers" clothing by mid- to late- 20th century designers who created fashions for both men and women.
A pinstriped, navy blue woman's pantsuit designed in 1967 by Yves Saint Laurent, who was an influential proponent of trousers for women, will be shown alongside a Saint Laurent man's suit in velvet.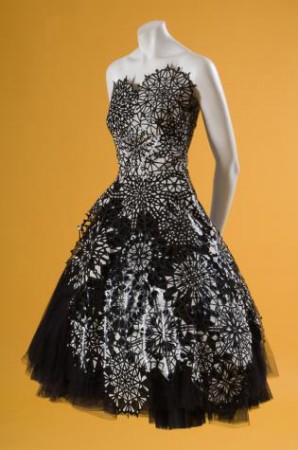 Versace men's and women's jackets from 1992, embellished with similar "cowboy" details, will be shown together.
Other featured designers will include Pierre Cardin (the first couturier to introduce a menswear line), Giorgio Armani, and Helmut Lang.
The historical timeline will begin with a brocaded silk court dress from circa 1760, paired with an elaborately embroidered velvet man's suit from circa 1785.
Together, these garments will illustrate how upper-class men and women of the 18th century wore fashions that were similar in many respects.
While such lavish materials and adornments usually appear "feminine" to the modern eye, in the 18th century, they were considered "aristocratic."
The opulence of 18th-century menswear provides an interesting counterpoint to the generally staid men's fashions of the 19th century.
During this period, day and eveningwear for men was typically dark and somber, while women's dresses were brightly colored. However, men did wear colorful, exotic garments at home.
For example, a brightly patterned man's dressing gown from the 1840s will be shown alongside a woman's demure, white cotton morning robe. By the 1890s, women's tailored suits began to appropriate elements of men's clothing.
Moving into the 20th century, His & Hers will feature a sporty, checked wool man's suit from the 1920s paired with a checked silk day dress by Louiseboulanger. In the 1930s, women's preferences for broad-shouldered suits actually preceded a similar trend in menswear, and examples of each will be shown side-by-side.
The "Peacock Revolution" of the 1960s, which transformed menswear, will be exemplified by a stenciled velvet suit by the English label Mr. Fish.
Meanwhile, many women began wearing miniskirts that showed off their legs, as well as trousers for day and evening. Highlights will include similarly styled "mod" pantsuits for both men and women.
By the 1980s, the growing presence of women in the workplace resulted in the creation of women's "power suits." His & Hers will include an example by Yves Saint Laurent that features "feminine" details, such as a soft bow tie and playful animal print, alongside a man's power suit by Alan Flusser.
A pastel man's ensemble by Versace (made for the trend-setting television show Miami Vice) will exemplify the "new male" of the 1980s.
Although many contemporary designers continue to subvert gender codes in various ways, most collections today are still clearly defined as menswear or women's wear. Nevertheless, some designers consider bridging the male/female divide to be fundamental to their work.
For example, a woman's pantsuit by Albert Kriemler of Akris combines "masculine" elements of tailoring and restraint with a sleek silhouette that highlights and flatters the female form. In contemporary design, violating gender boundaries is usually a function of style, rather than an act of provocation.
His & Hers is organized by Jennifer Farley and Colleen Hill, together with Tiffany Webber. The exhibition will be on view from November 30, 2010, through May 10, 2011, in the Fashion and Textile History Gallery at The Museum at FIT.
Museum Hours
Tuesday-Friday – noon-8 pm
Saturday –10 am-5 pm
Closed Sunday, Monday, and legal holidays
Admission is free and open to the public.