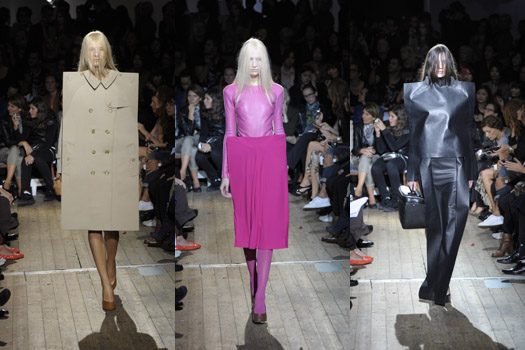 PARIS, Oct 8, 2010 / FR/ — With the whole world going gaga over 3-D it is not surprising that it has spread to the Parisian catwalks and Maison Martin Margiela's new collection stands out due to its unconventional approach.
Clothes are organically 3-D; the Maison Martin Margiela Spring 2011 collection explores the idea that clothes can be 2-D as models walked the runway in "picture dresses" i.e. clothes that are "flat."
The collection began with men's shirts successfully interpreted for women (think of the classic "I borrowed from my boyfriend's wardrobe) by making it into a mini dress with extra stitching on the sleeves and finished with a clear, rigid fiberglass clutch.
This mannish approach was continued in a black suit ensemble featuring exaggerated shoulders (one of the last innovations of the designer Martin Margiela for his eponymous house before leaving). What is interesting is the approach for the trouser.
To make it look 2-D, the trousers were cut wider than the hips and waist and the extra fabric made to hang outward by using reinforced (read that rigid) belt.
Then it turned feminine with a long skirt with seams that repeat each line of the body (think of a mermaid with extra fins of the side of its legs). And don't miss the flat trench coat and black cocktail dress.
[MARI DAVIS & LIDIA BARDINA]
Photos by DR
Paris Prêt-a-porter Spring 2011