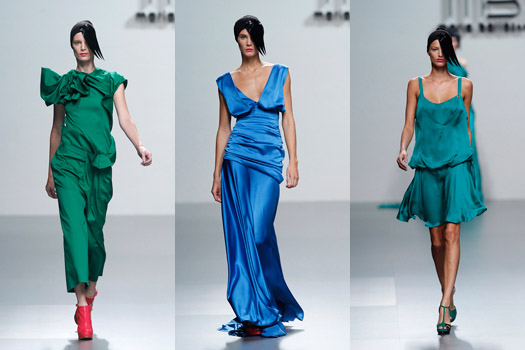 MADRID, Oct 24, 2010 / — María Barros' 2011 Spring-Summer Collection, entitled "Moi", shows the designer in her purest and most authentic state, displaying the result of an in-depth exploration of her subconscious, with no embarrassment, evasion or secrets.
Closely linked to psychoanalysis theory, this collection mirrors the dynamic mechanisms that give unconscious meaning to her work, gaining its inspiration from the designer's perception of herself with no prior censorship, which is proper to her conscious side and represses the irrational understanding of her dreams.
Influenced by her feelings and using the creative process as a method of personal therapy, Maria Barros creates silhouetted profiles which can be glimpsed between the shyness and caution that appear through the most visible shades of the delicate fabrics (tulles, organzas and silks). The volume and shapes of the designs play a prominent role in this collection.
In an exercise of self-sincerity, Maria Barros shows her public the explosion of emotions that come to the surface during the creation of a new collection.
Photos courtesy of Cibeles Madrid Fashion Week
Madrid Fashion Week Spring 2011