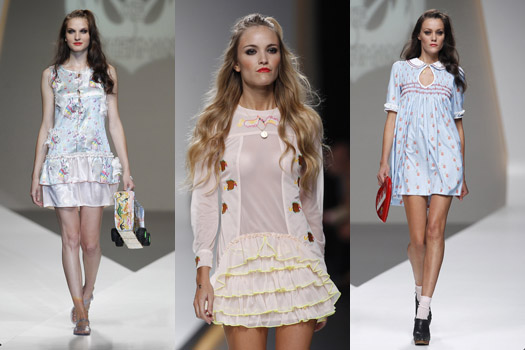 MADRID, Oct 22, 2010 / — María is a little girl who dreams of having a made-to-measure, rubber pony whose long, pink, synthetic mane she can comb every morning.
This reality is the basis for the collection, a softened ecosystem in which strong and fragile elements interact creating an unusual harmony in which all of them have an essential function.
Without ever letting go of her childhood, María and Fisherman remind us that we are still little without forgetting what made us older. That is the rationale behind the soft, innocent shapes, the warm colours, the plastic, the grandmother's knit… and, the fluorine touches, the suggestive holes and the transparencies of openwork fabrics protected by soft stretch lingerie which reveal adult femininity.
We can only speak of a line in which the same clothes rack is shared by crochet dresses and handmade sweaters, cotton, plastic, reflective prints and short plastic jackets covering transparent silks. An oriental air appears in garments that want to remain in the 80s, like a one-armed, 60s Dracula caressing a giant armadillo.
The fun themes used in the details include prints of fluorescent bouncing monkeys, squirrels with magic goat balls and synthetic hair, which is dyed on occasions, and gel-filled laminated doves. It makes us feel like we did on the day we dressed up as grownups and we liked it.
Photos courtesy of Cibeles Madrid Fashion Week
Madrid Fashion Week Spring 2011