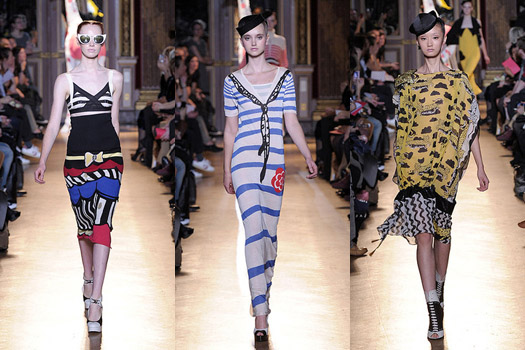 PARIS, Oct 6, 2010 / FW/ — Playful is the one word I would use to describe the Spring 2011 collection from this Japanese designer.
Chisato's use of printed knits this season was fresh and gave us a taste of something we actually saw a lot more of as the week went on. She used the printed knits in a way that created illusions of vintage silhouettes and evoked images of cartoons, and shoes that were a feminine take on the men's oxford flat.
Drawing inspiration from the silhouettes of the jazz club era in the 1940s and into the safe-era of the 1950s, we saw flapper drop-waists, nautical and animal inspired prints, all in pop-colors.
Further, the printed chiffons in the collection were playful and bright, keeping the show dream-like and surreal.
[LINDSAY MCCALLUM]
Photos courtesy of Elle.com
Paris Prêt-a-porter Spring 2011