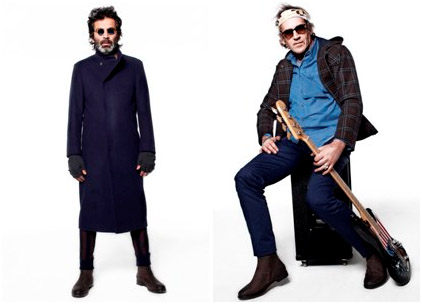 MILAN, Oct 20, 2010 / FW/ — The subject of a fashion buzz since becoming the inaugural winner of "WHO IS ON NEXT? UOMO", Umit Benan is more than just living up to expectations. He is surpassing it!
After successfully unveiling his Spring 2011 collection, Dazed Digital described Umit Benan has "having adjusted a national sartorial heritage to the rest of the world," with his Turkish theme.
Three months later, Umit Benan is once again hits the fashion headlines with the opening of his own "mini-store" on www.thecorner.com
The new mini-store showcases the Autumn/Winter 2010/11 collection, Retired Rockers, inspired by a group of musicians who made music history in the 1970s and 80s, once young and wild kids with no direction beyond rousing an entire generation to a blaring rock beat.
In an exclusive interview for thecorner.com from his Milan studio, the cosmopolitan designer tells about his origins and creative inspirations. The A/W 2010/11 collection presents a style which is relaxed, free and easy and definitely classy.
The reference is to a legendary band, The Rolling Stones. According to Umit Benan, their charismatic and nonconformist spirit goes beyond what they wear, representing the pure spirit of rock.
The path of the designer has been marked by various collaborations including Marc Jacobs (for the women's section), Motu Tane for Francois Nars, Sophie Theallet and Rifat Ozbek for Pollini.
In 2009 Umit Benan has presented his brand and with the second collection, Cuba SS10, the designer won the first menswear edition of "WHO IS ON NEXT?" organized by L.Uomo Vogue and Pitti Immagine.
The designer was also one of two protagonists featured in the men's fashion project compiled by Pitti Uomo 77 in January 2010. As web media partner of Pitti Immagine, thecorner.com followed the event of the designer, who presented the A/W 2010/11 collection in an old restaurant in the Santa Maria Novella station in Florence.
The A/W 2010/11 collection, Retired Rockers, is now available on thecorner.com in more than 50 countries.