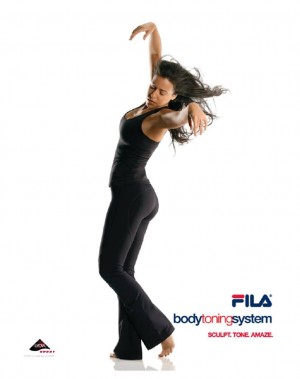 DALLAS, Oct 21, 2010 / FW/ — Fila just gave everyone another reason to exercise – the Body Toning System (BTS), body toning workout apparel for the women's fitness industry that shapes the body and dramatically improves workout efficiency.
Following in the footsteps of the successful toning footwear category, BTS apparel is designed to increase muscle exercise by as much as 50%, an extraordinary improvement in the efficiency and recovery of an existing workout. This highly technical program is another important step in the expansion of LYCRA® SPORT fabric as a leading performance technology in the active wear industry.
BTS utilizes double-layered panels of INVISTA's LYCRA® SPORT fabric engineered to compress active muscles, a novel design approach that represents a new era of interactive sports training and fitness apparel.
The collection, including a resistance tank, short, tight capri, capri, pant and long tight, also provides 41% more support than traditional athletic leggings made from polyester or elastane, effectively smoothing targeted areas and reducing the appearance of cellulite. Flat seaming construction allows for greater comfort and range of motion.
"Body toning apparel is a natural progression of the recent successes in the toning footwear market," said Jon Epstein, President of Fila USA. "We are thrilled to be on the leading edge of this fitness revolution with the first marketable application of an apparel toning collection for the women's performance fitness market."
"The Body Toning System stands to completely change the perception of the clothing that we work out in, for both men and women," said Freya Tamayo, Fila's Director of Design. "This women's collection is such an exciting development in the fitness industry, making exercise apparel an integral part of a woman's workout that affects her both inside and out. Fila looks forward to working with INVISTA to further refine the collection and to develop new BTS applications for many different sports."
The Body Toning System is currently commercially available in the United States at Dick's Sporting Goods stores and athletic specialty stores.