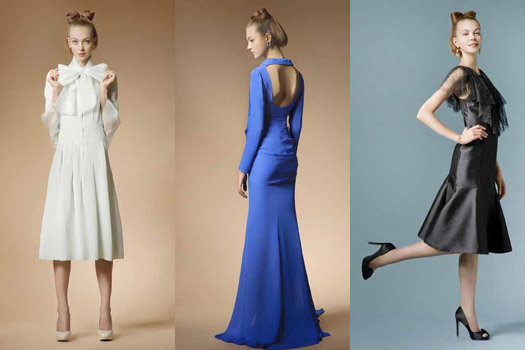 NEW YORK, Oct 26, 2010 / — Cryptically entitled "My Black Wedding Dress," Yuna Yang endeavors to portray the struggle between traditional femininity and luxury. In her own words, Ms. Yang explains, "Luxury both fuels and entraps dreams in material goods."
The idea of a black wedding dress contradicts traditional expectations and instead, introduces the theme of reborn. YUNA YANG's Spring/Summer 2011 Collection was inspired by the era of the 1960's housewife as embodied by the character of Betty Draper on AMC's Mad Men.
Yuna views Betty as an archetypical 1960's housewife amidst the transitional era between the 1950's wife/mother and the modern woman of the seventies.
At first glance, Betty Draper is portrayed as a typical housewife in the sixties. She is married to a well-to-do businessman who supports her, she cooks and cleans and tends to the household, etc. However, Betty breaches the conventional mold and is shown throughout the series engaging in uncharacteristic behaviors.
This unexpected twist to tradition is the key to YUNA YANG's latest collection. The classic silhouettes and luxurious lace fabrics used in her dresses are reminiscent of Grace Kelly and the sixties glamour, representing "the fairytale" that all women dream of.
However, there are small additional details present in the collection which add her own perspective and "twist."
New York Fashion Week Spring 2011