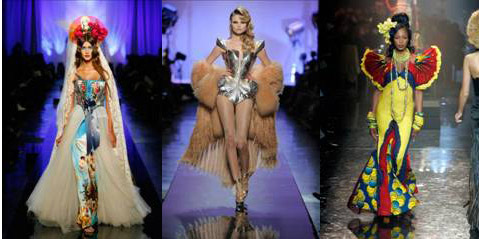 DALLAS, Nov 12, 2010/ — The first retrospective devoted to the designs of world-renowned French couturier Jean Paul Gaultier will make its U.S. debut at the Dallas Museum of Art in November 2011.
Marking the first time that the DMA will present an exhibition dedicated to exploring the art of fashion, The Fashion World of Jean Paul Gaultier: From the Sidewalk to the Catwalk will provide an unprecedented look at the designer dubbed fashion's "enfant terrible" from the time of his first runway shows in the 1970s and who has become one of the most important fashion designers of recent decades.
Organized by the Montreal Museum of Fine Arts in collaboration with the maison Jean Paul Gaultier, the exhibition will premiere in Montreal on June 15, 2011, and will be on view at the Dallas Museum of Art from November 13, 2011, through February 12, 2012, before traveling to its final stop in the U.S. at the Fine Arts Museums of San Francisco, de Young, in March 2012.
"Jean Paul Gaultier's couture fashions are bold and unapologetic, and intuitively reflect the cultural moods of a global society. His designs inspire, influence, and bring the very essence of imagination to life," said Bonnie Pitman, The Eugene McDermott Director of the Dallas Museum of Art.
"The Fashion World of Jean Paul Gaultier marks the first time the DMA will present an exhibition that explores the art of fashion and we are thrilled to be the first U.S. institution to exhibit the first retrospective on the work of one of the most influential designers of our time."
"I wanted to create an exhibition on Jean Paul Gaultier more than any other couturier because of his great humanity," explained Nathalie Bondil, Director and Chief Curator of the Montreal Museum of Fine Arts.
"Beyond the technical virtuosity, an unbridled imagination and ground-breaking artistic collaborations, Gaultier offers an open-minded vision of society, a crazy, sensitive, and sassy world in which everyone can assert his or her own identity through a unique 'fusion couture.'"
The exhibition—organized along five different thematic sections, including "Jean Paul Gaultier's Paris," "Fusions," "Multi-Gender," "Eurotrash/ X-Rated," and "Metropolis"—will feature approximately 120 ensembles from the designer's couture collections, as well as from his prêt-à-porter line, along with their accessories.
Created between 1976 and 2010, the majority of these pieces have never been exhibited. Sketches, stage costumes, and excerpts from films, runway shows, concerts, dance performances and televised interviews will all provide a look at the couturier's world and will explore how his avant-garde fashions challenged societal and aesthetic codes in unexpected, and often humorous, ways. Photography will also be a major focus of attention, thanks to loans of, in many cases, never-before-seen prints from renowned contemporary photographers and artists.
A substantial portion of the exhibition will also be devoted to the artistic collaborations that have characterized the world of Gaultier, including filmmakers (Peter Greenaway, Luc Besson, Caro and Jeunet, and Pedro Almodóvar) and contemporary choreographers (Maurice Béjart, Angelin Preljocaj and Régine Chopinot), not to mention the world of popular music, in both its French incarnations (Yvette Horner, Les Rita Mitsouko and Mylène Farmer) and international (Madonna, Kylie Minogue and Lady Gaga).