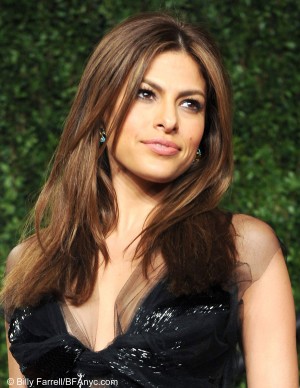 PARIS, Mar 18, 2011/ — Actress Eva Mendes, one of the most recognizable faces in the world is the new face of Angel by Thierry Mugler, joining Naomi Watts, Estelle Lefébure, Amy Wesson, Anna Maria Cseh and Bianca Balti as muses for the famed perfume.
To begin a new chapter of the Thierry Mugler galaxy, the legendary designer and master perfumer has once again chosen an international star to represent this iconic scent. Strong one moment and demure the next, both femme fatale and spontaneous, Eva Mendes personifies the very facets of sensuality encompassing Angel.
While Naomi Watts' ethereal beauty embodied the angelic aspect of the fragrance, Thierry Mugler chose to reignite the enticing and explosive dimensions of the fragrance with the sultry Mendes.
Though her obviously flawless physical beauty is in perfect harmony with the artist's aesthetic canon – Ms. Mendes mesmerized Mugler with her independence, determination and humor.
From her attention grabbing performance in 'Training Day' (Antoine Fuqua) to 'We Own the Night' (James Gray), this young American has gone on to undertake many other prestigious roles (The Other Guy, Hitch…), working with the greats Frank Millier, the Farrelly brothers to name a few. There is not a role Eva Mendes cannot play, from drama to comedy, independent films and blockbusters. Her most recent film, 'Last Night' (Massy Tadjedin) with Guillaume Canet, Keira Knightley and Sam Worthington, released in 2010.
In 1992, when he launched Angel, his very first perfume, Thierry Mugler chose Estelle Lefébure. Perched atop a New York skyscraper, wearing a black suit and enveloped in a blue muslin scarf, she began the saga that Jerry Hall continued in 1995 dressed in a silver gown on the immaculate dunes of White Sands National Park in New Mexico.
In 1998, Amy Wesson embodied a crystal angel echoing of the most beautiful icon of all: Angel and its star-shaped bottle. Next was Anna Maria Cseh's dizzying portrayal in 2003, about to go over the edge, surrounded by the chaos of night, fervently protecting her precious perfume.
In 2006, the Angel legend continued with Bianca Balti, hypnotized by her own reflection after having put on the heady fragrance. In 2008, Angel reconnected with its original magic in a contemporary fairy tale interpreted by the beautiful Naomi Watts. In 2011, a new angel appears with Eva Mendes.