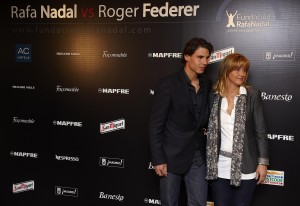 PARIS, Nov 3, 2010 / — This is the match dreamed by all tennis tournaments in the world; a final between Rafa Nadal and Roger Federer.
Together, they have played some of the most incredible matches in history and on December 22nd, 2010 -from 6:30pm- the "Caja Mágica" in Madrid, will have the chance to stage a memorable match between the two legends in which they will be playing for a lot more than just a victory.
Pioneer of elegant sportswear for any occasion, and especially for Tennis Collections, Façonnable will participate as a sponsor to this prestigious event tournament with an exclusive outfit for all of the linesmen as well as active sponsor for all activities during this event.
Organized by the Rafa Nadal Foundation, this friendly match Nadal vs Federer United for Kids aims to raise funds in benefit of children with disabilities and youngsters coming from underprivileged communities. After all, they are the force driving the Rafa Nadal Foundation and they will emerge as the only winners of this event.
This event will turn into the main Christmas social event in Madrid. Façonnable is proud to be present during this prestigious match at the highest level of the Tennis World.
The Rafa Nadal Foundation was born in November 2007 out of the desire to create opportunities for children with disabilities and those coming from underprivileged surroundings. The Foundation offers educational programs where sport will be used as a tool to integrate kids personally and socially.