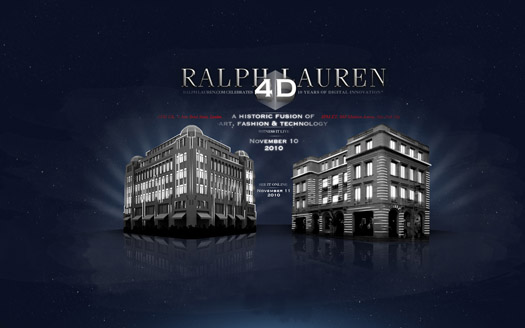 NEW YORK, Nov 9, 2010 / — We are familiar with 3-D and now, RalphLauren.com introduces to us to 4D, short for "four dimensional light installation" that the company is holding on Wednesday, November 10, 2010 on the façade of its flagship locations in New York and London.
Guests will see Madison Avenue in a whole, new light as futuristic 4D technology is projected onto the façade of new Ralph Lauren store at 888 Madison Avenue.
The light installation will illuminate the evening sky as the façade opens out into the street revealing illusions such as giant, striding models, four stories tall and Polo players making their way down Madison Avenue creating a visceral fashion moment of excitement and intrigue.
RALPH LAUREN 4D will also be seen in London on the façade of the Ralph Lauren store on New Bond Street. This digital innovation celebrates the 10th Anniversary of RalphLauren.com and the launch of the UK e-commerce site.
Through the use of advanced video mapping technology, this global event will mark a first for the fashion world and will further reinforce the brand's dedication to innovation by seamlessly combining art, fashion, music and fragrance into a modern 4D moment that has never been seen before.
The vibrant world of Ralph Lauren will illuminate the evening sky as moving footage of iconic products are brought to life on the façade in a culmination of art, fantasy and light.
Viewers will experience a montage of flashing scenes of larger-than-life sized images including models standing four stories tall walking the runway, Polo players making their way down Madison Avenue and New Bond St, and iconic Ralph Lauren fashion accessories such as the Ricky Bag, ties and belts that wrap the length of the building.
The projection will give the illusion that images are extending beyond the façade and floating out into space and toward the audience creating a visceral moment of excitement and intrigue.
The façade becomes a mosaic of realistic illustrations complemented with transient sounds of music, illusions of a blowing breeze, and even a light mist of the new Big Pony Collection Fragrances infused into the night's air evoking the audience's sense of smell and creating the ultimate sensory experience.