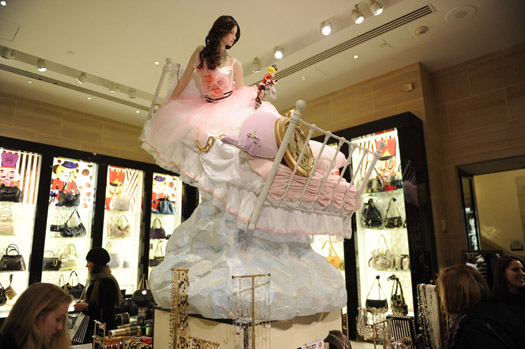 NEW YORK, Nov 17, 2010 / FW/ — With Atrezzo mannequins reinterpreting the elegant movements of the New York City Ballet, Henri Bendel brought "The Nutcracker" inside the store and in its store windows.
Imagined, designed and executed by Gilberto Santana, Visual Director at Henri Bendel, the store windows and in-store display paid homage to George Balanchine´s version of The Nutcracker.
"People like Christmas clichés; it's how those clichés are re-interpreted that counts," comments Gilberto Santana and thus explaining the reason for the classic treatment of the store windows.
Collaborating with Atrezzo which created the pirouetting mannequins, the magic and uplifting spirit of the ballet and The Nutcracker were achieved.
The Henri Bendel holiday windows will be on display until January 3, 2011.
[MARI DAVIS]
Photos courtesy of Atrezzo