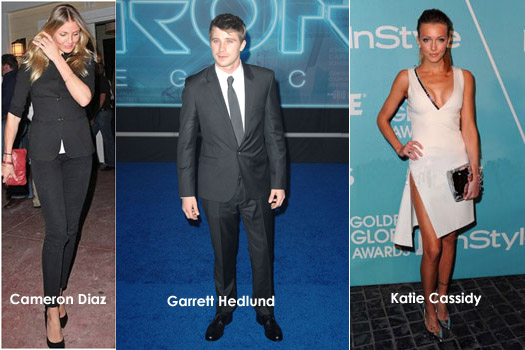 DALLAS, Dec 16, 2010 / FW/ — It's almost the weekend and I haven't done any shopping yet. Claire Danes though does not have that problem. The award-winning actress was seen with her husband Hugh Dancy browsing the boutiques in New York City.
Claire was wearing the No.6 Black Suede 5″ Shearling Boot on Mid-Heel. A favorite among fashionistas, the No. 6 store was opened by Morgan Yakus and Karin Bereson in Little Italy in 2005. It began with a basic clog boot and since then has expanded to a variety of colors, materials and height.
Meanwhile, 14-year-old Hailee Steinfeld who plays "Mattie Ross" in the remake of "True Grit" wore a metallic embroidered tulle Moschino Cheap & Chic dress to the premiere of the movie at the Ziegfeld Theatre on December 14, 2010 in New York City.
Country music artist Jennifer Nettles walked the red carpet wearing Collette Dinnigan Black strapless long gown to the 33rd Annual Kennedy Center Honors on Dec 5th.
Moving on to Miami, Cameron Diaz was seen wearing Genetic Denim Miami on December 10th, 2010 while she was out to dinner in Miami. The actress donned the Genetic Denim The Shane in Zinc.
At the El Capitan Theatre on Saturday evening, Dec 11th, in Hollywood, California, at the premiere of Tron: Legacy, Garrett Hedlund who plays the lead character "Sam Flynn" in the movie, was wardrobed by Calvin Klein Collection.
Mr. Hedlund wore a black suit, white shirt and black tie, all from the men's Fall 2010 Calvin Klein Collection, designed by Italo Zucchelli, the brands' Men's Creative Director.
Still in Los Angeles, but on an earlier date, actress Katie Cassidy chose to wear Versace to The Hollywood Foreign Press Association and InStyle's Miss Golden Globe 2011 Introduction Party on December 9, 2010 in West Hollywood, California.
The newest 'Gossip Girl' actress chose a look from Versace's Fall 2010 Collection, she wore a white cocktail with a high slit on one side and crystal detailing at the neckline.
In Italy, Silvia Toff, for the Christmas episode of Verissimo (airing Saturday, December 18 on Channel 5), choose to wear a template GREY MER autumn-winter 2010/2011.