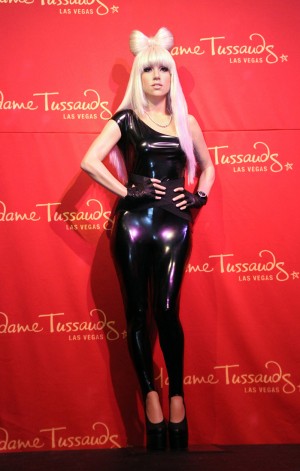 LAS VEGAS, Dec 9, 2010 / — One of the world's most flamboyant and individual performers joined the A-list line up at Madame Tussauds Dec. 9th.
Lady Gaga debuted in Las Vegas and seven of Madame Tussauds' worldwide attractions, including U.S. locations – Madame Tussauds New York, and Madame Tussauds Hollywood.
The Las Vegas Lady Gaga wears the Mini Mouse outfit, a one-shoulder, black latex bodysuit and long, straight hair topped off with Mini Mouse style buns, as seen on a visit to BBC Radio 1 studios in London.
All eight Lady Gaga wax figures were unveiled in the biggest and most ambitious figure launch in Madame Tussauds history with each attraction revealing a different portrayal of Lady Gaga on the very same day.
Additional cities include London, Amsterdam, Berlin, Shanghai and Hong Kong. Each figure was first perfectly sculpted in clay before being molded in wax. A team of expert artists then accurately recreated color and skin tones, replicating every freckle, mole and dimple, before the make-up, artists, hairdressers and stylists finish off the look.
The painstaking process will take four months to complete at a cost of more than $300,000 per figure, adding up to grand total of $2.4 million for all eight figures.