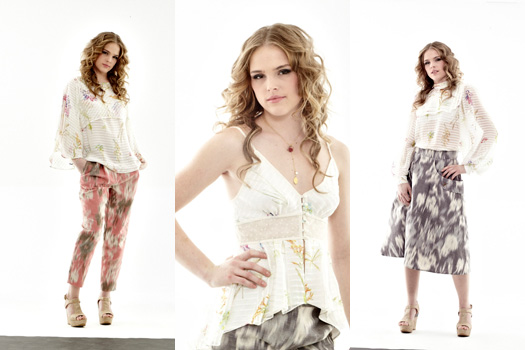 NEW YORK, Dec 14, 2010 – Manthey Spring Summer 2011 embodies the boho spirit of Bridget Bardot circa 1970s intertwined with the free spirit of Woodstock. Playing upon youthful playfulness and soft silhouettes, this season gives air to a nostalgic past, integrating printed flower gardens, vintage horticulture prints, and relaxed pleating and smocking.
Designer Christine Manthey, a graduate of the prestigious Art Institute of Chicago, credits her experience at some of today's most prominent design houses Cynthia Rowley, Hussein Chalayan, and Marc Jacobs for a resulting combination of strong aesthetic and immaculate construction.
For Spring Summer '11 Manthey furthered her vision, incorporating a selection of trousers and flowing skirts to the collection.
Adding a slight flare, whether at the end of a sleeve or the hem of a pant or skirt, this season embodies the seventies vibe that it drew upon as inspiration. Color choices include muted shades of rose and espresso and subtle prints that range from peach and pink to taupe and ivory. Fabrics include a delicate selection of floral printed chiffons, organza printed with painterly paisley motifs and an ikat print for pants and skirts.
Manthey retails between $650 for a silk printed tunic and $1,150USD for a smocked skirt with tulle details.
For more information please visit www.mantheycollection.com