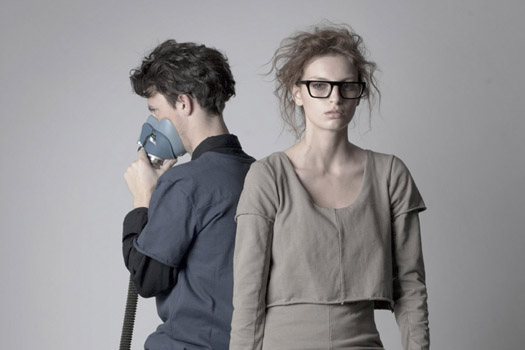 NEW YORK, Jan 18, 2011 / — Ksubi introduces a progressive range, with a salute to the distinct 'ksubi gang' style
ksubi 'beware, wear' 1101 challenges current perception on popular culture and trends, examining the idea of structure, regimented throughout culture and society as seen in the alleyways of the metropolis, is flanked by urban decay.
'beware, wear' 1101 becomes the wearer's camouflage, explored through print and fabrication ensuring patent form.
Experimenting with differing tactile and visual elements, the idea of 'merging' by focusing on internal detailing from reversed fabrics to external seams and layering, which then become the predominant garment features. These deconstructed textures further reinforce the idea of creating camouflage.
The colour palette for the season draws from the elements. From ash to slate, smoke to jet, a sombre yet sophisticated palette is then lifted through moss, khaki and deep plum. Red is rusted and bloody in 'beware, wear' complimented by soft sand and fresh neutrals.
Denim, whether shredded, slashed, ripped, or cracked leave battle scars exposed, with track marks running over 'La Femme' and 'Clazisco.' Familiarity is noted with the reintroduction of classic ksubi denim washes. Even in the dead of night 'Worn Grey' and 'Dark Dusted' are all
recognisably ksubi.
'Dazzleship,' a contemporary denim jacquard design, geometric in shape and monochromatic in tone will remain undetected by the forces whilst gang insignia continues to prevail in the tagged 'Coloured Cuckoo' and 'Colour me Happy' jacket.
Digital printing remains a fixture of the ksubi design portfolio, the technique that originally saw such vivid pigments debuted during the Fashion Week of 2007. Through experimentation and development new life blossoms in 1101 through the 'Cam Floz' digital print, an opulent yet tough aesthetic using premium Silk Twill as seen on the blazer, tank dress and short. The result is a relaxed yet framed silhouette. Ksubi pioneers this season with the addition of digitally printed knitwear 'I beleaf.'
Body armour is developed in the 'Two Timer' jacket, a double layer fit for him. Protected this season, the 'Eagle' jacket lands in black denim, watching your back with gold studded bird detailing. Buckles adorn the ankles and cuffs of the 'Fox Trot' jean and dress for her. Locked in.
The suede panelling of the 'Perforated Poncho' with elements representative of utilitarian cargo nets whilst the 'Contrast Jumper' for him angular leather shoulder patches, with hoods a prominent fixture throughout the ksubi 'beware, wear' 1101 knitwear collection.
[nggallery id=300]