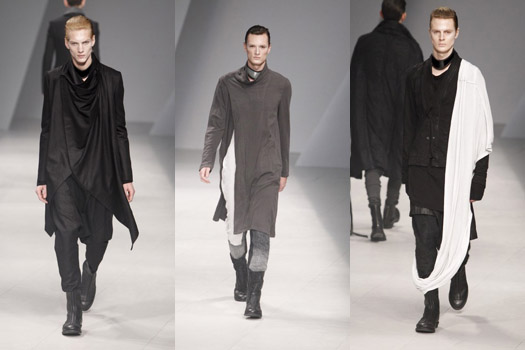 PARIS, Jan 22, 2011/ FW/ — Inspired by the contrast between beauty and chaos, and dedicated to the new urban avant-garde, Tatsuro Horikawa brought us a true experience this season.
Set in the hall of the Beaux-Arts de Paris, there was a fine mist of smoke in the air which reflected the spot lights and made the models look like they were walking through the mist high atop a mountain monastery, much like the one in Aix-en-Provence from which this collection was inspired.
The dark and somber color palette of the collection highlighted the edginess of the pieces. Accessories such as leather backpacks, combat boots, and silver collar necklaces were also highlights.
The silhouettes were long and flowing, with skirts or long tunics seen over pants, thin sweaters layered upon others, and the use of leather wraps mimicking the sash of a kimono were again seen here.
Loose, gauzy pieces were offset by edgier leather pants and jackets. High funnel collars, shawl collars, wraps and layers were the bases of this collection.
[LINDSAY McCALLUM]