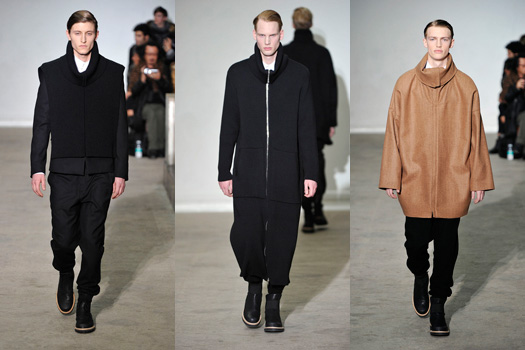 PARIS, Jan 22, 2011/ FW/ — When a show starts with "Where Is My Mind" by the Pixies, you know you're in for a treat.
Plus, when that show is the much-anticipated Kris VanAssche collection, there is no doubt you're about to enjoy every minute of the show.
In true VanAssche form, we were not disappointed. The sleek, modern, masculine collection was exactly what this season needed. Sticking with the color palette of neutrals, the pants silhouettes were mostly slim while the jackets ranged from laser-cut, modern shapes to over-sized leather coats, and XL knits.
The funnel neck made a debut here as well, in a modern, sleek way. Also showing up often this season is the split lapel on jackets and coats- like the seam of the lapel hasn't been fully closed, so the jacket has a bit more life as the model walks.
The accessories in the collection were oversized, supple leather bags worn across-the-body and with the strap lengthened to the max. I loved the exposed zippers on the suit jackets, another popular choice this season, skinny belts, and the varying pants' hems- ranging from rolled-up, to cropped, to tucked into boots.
[LINDSAY McCALLUM]
Photos by Patrice Stable