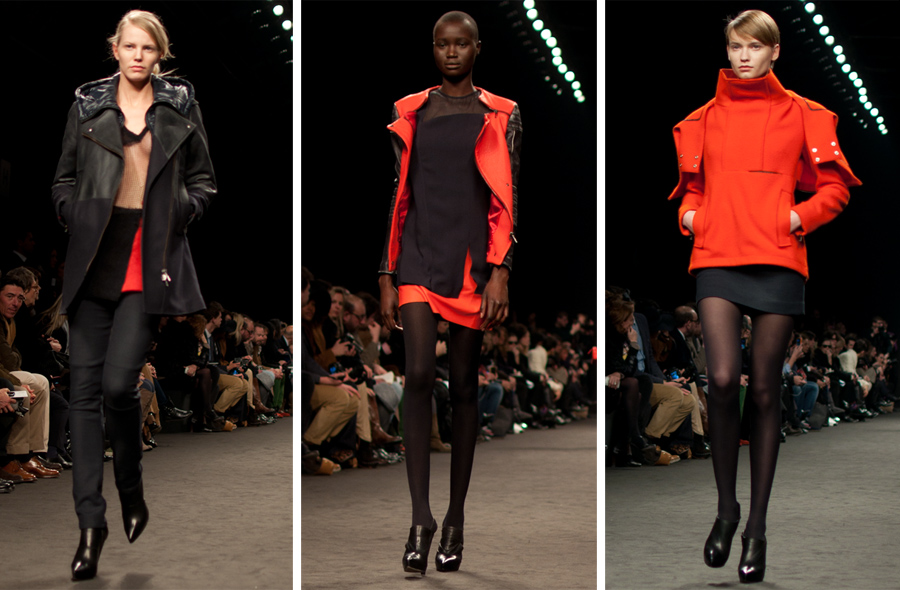 MILAN, Feb 27, 2011 / FW/ — "Sport & Modernism" is the theme behind Ennio Capaso's latest collection for C'N'C. The designer told us exclusively before the show that his starting place in designing this collection was the graphics of the 1960s.  His goal was to redefine the aesthetics of that era, the simple lines, and contrast them based on today's standards.  Taking simple lines and altering them to make something contemporary, "but not retro," he emphasized.
Pointing to his inspiration board full of images of world travelers, far away lands, and life outside of the city, he said he wanted to incorporate this idea of modernism into the essentials of travel- creating a modern interpretation of the clothes we all rely upon when we travel: parkas, bomber jackets, and other every day pieces.
Then, taking this idea one step further, Capasa drew upon the freedom of life outside of the city.  Mixing essentials of sportswear with the essentials of travel, in a very modern way.  Using a lot of bright orange with black, plaid, white, purple, and cedar- the color scheme reflected his distinctions.  Mohair merged with metallic nets, sleek leather pants, comfortable dresses, color block fabrics, and deconstructed cardigans-  all easy to wear and easy to combine for the modern jetsetting wardrobe.
[LINDSAY McCALLUM]
photos by Megan Leahy