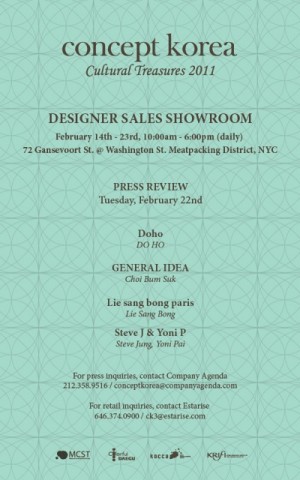 NEW YORK, Feb 9, 2011 / FW/ — Now on its third consecutive seasons, the Concept Korea program was created in 2010 by The Republic of Korean Ministry of Culture, Sports, Tourism, Daegu Metropolitan City Government, Korean Creative Content Agency (KOCCA) and Korea Research Institute for Fashion History (KRIFH) with support from the Council of Fashion Designers of America (CFDA.)
For its third installment, it will feature the works of four designers – General Idea, Do Ho, Lie Sang Bong and Steve J & Yoni P – selected by Dr. Steele, shown on models surrounded by the sights, sounds and tastes of Korea.
General Idea
Bum Suk Choi, launched his menswear designer collection "General Idea" in 2004 at the young age of 26. While building "General Idea" into an international brand, Bum Suk has also created designs for Heineken, Absolut Vodka and a limited edition line for Puma.
A published author about to release his third book, Bum Suk finds inspiration from his world travels and instinctual innovations.
Do Ho
Do Ho, the highly established womenswear designer, has showcased her luxurious collection "Doho" throughout Asia, Paris and New York City.
Over the years, Do Ho has built a serious brand, with 32 Doho stores throughout Korea. The artistic Doho line, inspired by a combination of 18th century femininity and the urban avant-garde, is created to empower women. Celebrities and editors a like flock to the clothing designed to bring women happiness and strength through fashion.
Lie Sang Bong
The acclaimed designer Lie Sang Bong began his womenswear brand in 1985 and since then has created glamorous avant-garde collections seen throughout the world.
With his Paris-based brand Lie Sang Bong, he has dressed Korea's First Ladies and some of the world's most fashionable celebrities including Beyonce & Lady Gaga.
In 2009 Bong, a Goodwill Ambassador for Seoul, was awarded the prestigious President Prize as Designer of the Year. His feminine architectural designs emanate the French haute couture combined with the luxurious, unique Asian sensibilities.
Steve J & Yoni P
In the short time since the designer couple Steve J and Yoni P started their collection in 2007 in London, they have quickly become the 'designers to watch' in the UK.
The duo moved from Korea to London to study at the prestigious Central Saint Martins and the London College of Fashion respectively. Shortly after the brand was launched, they were invited to do a capsule range for Topshop in London. Since then the cutting-edge Steve J & Yoni P womenswear brand has been previewed on the runways of London and Seoul.
In 2010, the couple was Awarded 'Designer of the year' at the Korea Fashion Awards. In their own words they state, "Our style is modern and quirky, with joyful color combinations. Pleats, manipulation and intricate cutting elements are key details." Steve J & Yoni P are about to take New York by storm.