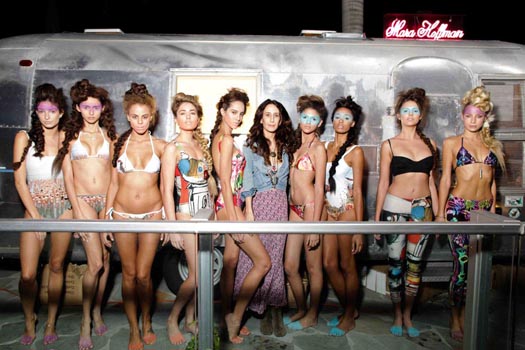 NEW YORK, Dec 2, 2011/ — Last night, designer Mara Hoffman presented her Limited Edition Artist Collaboration series at Mondrian South Beach in Miami.
The stunning atmosphere included an informal presentation, set around a custom designed Tipi (featuring one of Hoffman's prints), with a sunset backdrop over the bay. The artists featured in the collaboration included Javier Piñón, Spencer Tunick, John Newsom, Eddie Martinex and Maya Hayuk.
The presentation featured creative direction by Mara Hoffman and Lysa Cooper. Catwalk by TIGI (www.tigihaircare.com) created the amazing hair looks, with make-up by Judy Irizarry (www.themakeupmob.com), Maggy Torres and Damian Castellanos.
Explains Irizarry, "Yesterday's makeup reference and direction was inspired by the Sioux Indians and decorative war paint. We used colors of the earth such as pale sky blues, muted lavenders and dusky oranges, to compliment the beautiful patterns in the fabrics."
"I used an airbrush to create the blocks of color wash; airbrushing gives the look a different dynamic and edge. A part of the feet and face were airbrush painted – such as a band across the eyes or their forehead. In the end we had a modern look with an artistic American Indian twist," Irizarry added.
(Make-up product credits; Make Up For Ever Temptu PRO Airbrus)
The swimsuits and leggings featured in the presentation are being sold exclusively during Miami art week (Dec.1st-4th), in a roving pop-up shop co-curated by Michelle Tillou of Kinz Tillou Fine Art, housed in a 1964 vintage Airstream trailer.
The limited edition series features 15 of each style, 2 styles per artist (either swimwear and/or leggings), located either at Mondrian South Beach or PULSE Miami. Each artist's gallery is linked in the release attached.
The collection and limited edition series is available via a pop up store.
To create the roving retail venture, Hoffman will take over a vintage 1964 Airstream Trade Wind as well as a 9ft traditional Tipi constructed from one of Hoffman's prints. The airstream will be exhibited at Mondrian South Beach (1100 West Avenue, Miami, FL. 33139) on Thursday, December 1st, Saturday, December 3rd & Sunday December 4th and will be open from 10 AM – 8 PM Thurs & Sat, 11 AM – 6 PM Sunday.
On Friday, December 2nd from 11 AM– 7 PM, the airstream will be presented at PULSE Contemporary Art Fair, located at The Ice Palace (1400 North Miami Avenue).