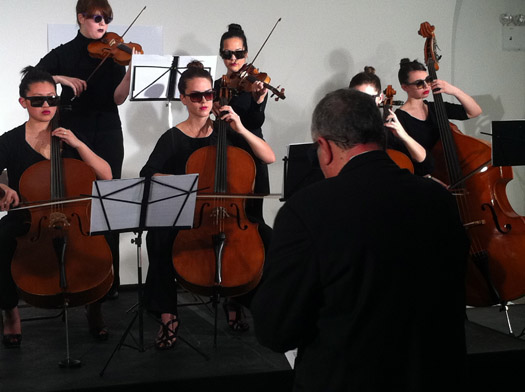 NEW YORK, Feb 27, 2011 / — Industry movers and shakers gathered together at Milk Studios during the New York Fall 2011 season to take a look at Illesteva's exciting new collection.
The conductor motioned a small string orchestra while butlers offered the latest creations held on silver treys. New York and Italian classical music experiences made an impact on innovative design duo of Daniel Siberman and Jus Ske.
Styling a classical performance in the latest Illesteva collection was beyond clever.Siberman and Ske continue to experiment with materials such as titanium and German bamboo. Active 3D material and felt is also added into the mix.
The eye-catching frames are handmade in Italy and France. In two years the company has gained presence in seven other countries including: the UK, France, Japan, China, Canada, Spain and Thailand.
[ERICA REED]
Photos by Erica Reed
New York Fashion Week Fall 2011