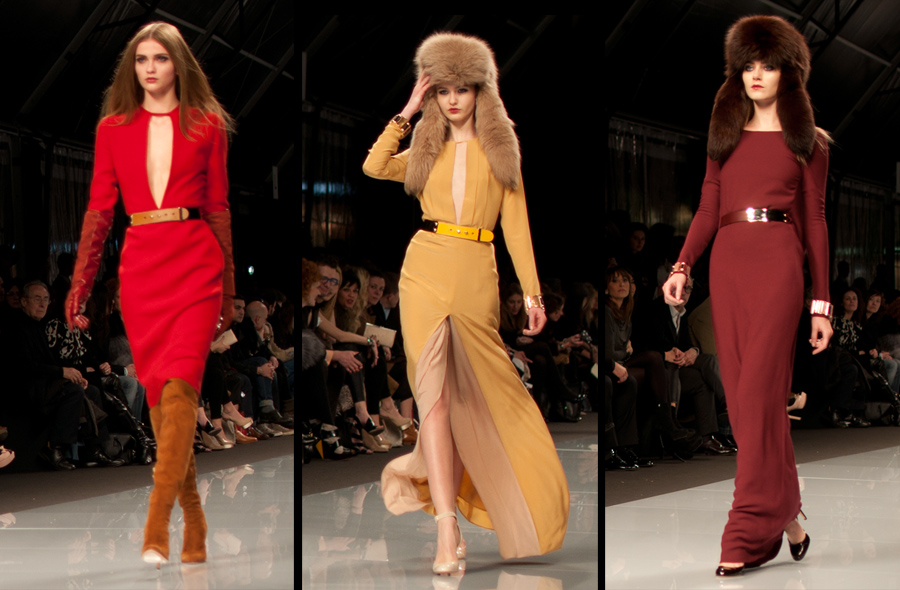 MILAN, Feb. 23, 2011/FW/ — Once again this season in Milan we find ourselves welcomed back to the 1970s at Jo No Fui. Luxe heavy fabrics trace out the perfect silhouette in rich and warm neutrals. Floor length evening gowns and A-line skirts receive one single detail to finish the piece: a scalloped hemline, a deep v cut from the front.
High-wasted trousers are given a simple pleat and matched with constructed turtle-necks, some which are sleeveless, in line with this season's bare-skin winter trend. Basic sweater dresses in lavish ribbed cashmere of gradient maroon and brown-golds are belted at the waste as a finishing touch.
The comfortable elegance of each piece is what makes this collection so desirable. Fur and leather, which have been the main stars of fall/winter 2011 so far, serve a purpose as belts, hats and muffs. They appear natural and practical which is equally true for the just right thigh-high suede boots. This is not to say the collection lacks luxury, especially evident in the crystal encrusted micro-sweaters.
These are the shapes and beauties found in her mother's wardrobe that inspired designer Alessia Giacobini's love for fashion.
[MEGAN LEAHY]
Photos by Megan Leahy