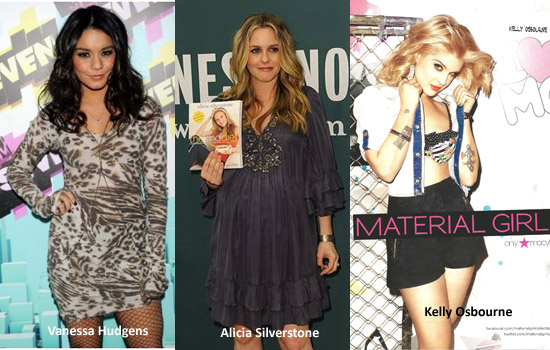 DALLAS, Mar 16, 2011/ FW/– Teen heartthrob Vanessa Hudgens looked dreamy in the Rebecca Taylor leopard ruched dress she wore when she attended THE SEVEN at MTV on Thursday, March 3rd in New York City.
Speaking of Rebecca Taylor, Alicia Silverstone wore the Rebecca Taylor steel grey silk beaded dress to the launch of her new book "The Kind Diet"at Barnes and Noble Book in Los Angeles on Tuesday, March 15th 2011.
Back in New York, Claire Danes wore a Yigal Azrouël jet and light pumice long sleeve houndstooth cocktail dress to Miscast 2011 – MCC Theater's 25th Anniversary Gala at the Hammerstein Ballroom in New York City on March 14th, 2011. Claire's look is from Yigal Azrouël's Fall 2010 collection.
Kim Kardashian was wearing Golden Lightning Minx for her appearance on the David Letterman show recently, and David noticed her gold nails, saying "That IS something!" Kim talked about her Minx and gave the camera a close-up of her nails!
Kelly Osbourne is the new model for the Material Girl advertising campaign that Macy's is currently publicizing, and Kelly is wearing Green Cheetah Minx for the ad. Kelly's Minx was applied by New York nail stylist Elle. Material Girl is the clothing line created by Madonna and her daughter Lourdes.
Here's a link to the video: http://www.youtube.com/watch?v=eDLPnlyV9JA
Again, in the West Coast, "American Idol" host Ryan Seacrest brought her sexy girlfriend Julianne Hough to dinner at Ago restaurant in Beverly Hills. The beautiful Ms. Hough was wearing H&M faux leather mini-dress.
Actress Busy Philipps is effortlessly chic in chiffon at the 'Freaks and Geeks' reunion at the Paley Festival.
Philipps wore a Stella and jamie print chiffon strapless cocktail to the event that reunited the cast of the 1999 American comedy-drama television series. Castmates in attendance included James Franco, Jason Segel, and Seth Rogen.
Meanwhile, Jessica Alba was spotted shopping in Beverly Hills on March 8th wearing Splendid Oatmeal Streaky Stripe Tank ($63). For those interested, Jessica Alba is pregnant with her second child and her baby bump is already showing.
[MARI DAVIS]