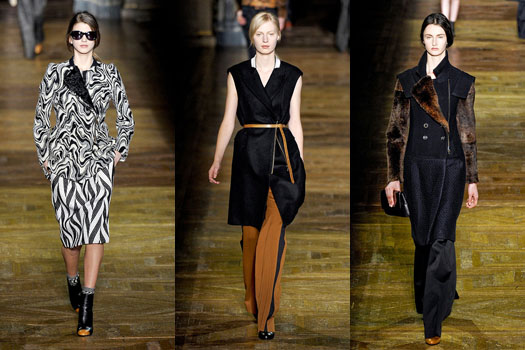 PARIS, Mar 5, 2011/ FW/ — Set in one of the governmental buildings of Paris' Hôtel de Ville, this hall was once used for royal galas and affairs fit for royalty. Today, used as the location for the Dries Van Noten Fall Winter show, the impressiveness of the salon was matched by their incredible collection.
Full of mix matched prints in flowing silks, beaded embroidery, stately coats, Dries hit the nail on the head. Lush pieces composed with soft and caring rigour were paired with graphic swirls of wool bouclé. The tablet of textures, techniques, and color blocking elements brought this collection into every realm of beauty.
The snake skin applique spun intricate motifs when printed on sheer silk mousseline and wools, taking exacting details to the forefront of each piece. Wit prints like bonsai, ikat and feathers, the color palette ranged from gold and caramel to coral, tortoise shell, azure and emerald.
Finishing each look were heels in clear and tinted Plexi, shown in blue velvet, snake skins of many colors and Toirotise effect detailing the feminine hand bags.
[LINDSAY McCALLUM]
Photos courtesy of Elle.com
Paris Prêt-a-porter Fall 2011